Strong Women Eat Well: Nutritional Strategies for a Healthy Body and Mind (Paperback)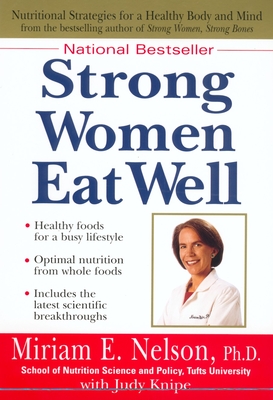 Description
---
Dr. Miriam Nelson clears away the misconceptions and myths-often fueled by the proponents of diets that focus on weight loss-and explains how to make the right food decisions. She offers sound, scientifically based advice, and shows women how to finally find pleasure in eating-and eating well. Included are:
Why high-protein, low-carbohydrate diets are ineffective and potentially dangerous
How to read and understand "Nutrition Facts"
The formula for determining how much protein is needed
Advice on whether to buy organic
What "fat-free" really means on a label
The latest information on genetically engineered foods
Advice on supplements
50 recipes
and more
About the Author
---
Miriam E. Nelson, PhD, became a trusted expert on women's health with her bestselling Strong Women Stay Young (Bantam, 1997), Strong Women Stay Slim (Bantam, 1998), and Strong Women, Strong Bones (Putnam, 2000) books and her monthly column in Prevention magazine, which has reached more than three million readers since 1997. She is lead author and coauthor on original research papers that have been published in distinguished peer-reviewed journals including the Journal of the American Medical Association and the New England Journal of Medicine. In addition, she is a WebMD health and fitness expert for CNN.com.

Judy Knipe is an artist and cookbook writer and editor. In addition to The Christmas Cookie Book, she has written, with Edward J. Safdie, Spa Food and New Spa Food. She divides her time between New York City and Vermont, where the inspiration for many of these cookies was born.