An Introduction to Tantric Philosophy: The Paramarthasara of Abhinavagupta with the Commentary of Yogaraja (Routledge Studies in Tantric Traditions) (Hardcover)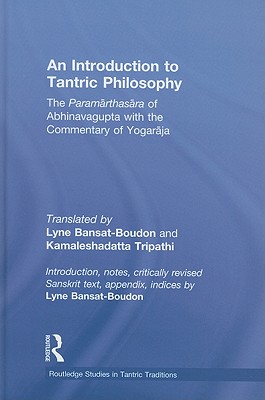 Description
---
The Paramārthasāra, or 'Essence of Ultimate Reality', is a work of the Kashmirian polymath Abhinavagupta (tenth-eleventh centuries). It is a brief treatise in which the author outlines the doctrine of which he is a notable exponent, namely nondualistic Śaivism, which he designates in his works as the Trika, or 'Triad' of three principles: Śiva, Śakti and the embodied soul (nara).
The main interest of the Paramārthasāra is not only that it serves as an introduction to the established doctrine of a tradition, but also advances the notion of jiv̄anmukti, 'liberation in this life', as its core theme. Further, it does not confine itself to an exposition of the doctrine as such but at times hints at a second sense lying beneath the evident sense, namely esoteric techniques and practices that are at the heart of the philosophical discourse. Its commentator, Yogarāja (eleventh century), excels in detecting and clarifying those various levels of meaning. An Introduction to Tantric Philosophy presents, along with a critically revised Sanskrit text, the first annotated English translation of both Abhinavagupta's Paramārthasāra and Yogarāja's commentary.
This book will be of interest to Indologists, as well as to specialists and students of Religion, Tantric studies and Philosophy.