MacArthur's War: The Flawed Genius Who Challenged the American Political System (Hardcover)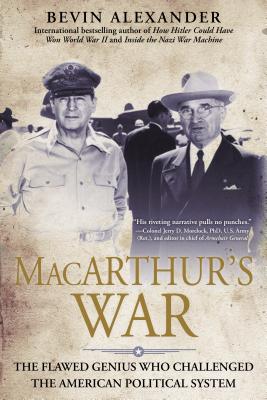 $25.95
Special Order - may be out of print
Description
---
Douglas MacArthur famously said there is no substitute for victory...
As a United States general, he had an unparalleled genius for military strategy, and it was under his leadership that Japan was rebuilt into a democratic ally after World War II. But MacArthur carried out his zero-sum philosophy both on and off the battlefield. During the Korean War, in defiance of President Harry S. Truman and the Joint Chiefs of Staff, he pushed for an aggressive confrontation with Communist China a position intended to provoke a wider war, regardless of the cost or consequences.
MacArthur's ambition to stamp out Communism across the globe was in direct opposition to President Truman, who was much more concerned with containing the Soviet Union than confronting Red China. The infamous clash between the two leaders was not only an epic turning point in history, but the ultimate struggle between civil and military power in the United States. While other U.S. generals have challenged presidential authority from Zachary Taylor in the Mexican War and George B. McClellan in the Civil War to General Stanley A. McChrystal in Afghanistan no other military leader has ever so brazenly attempted to dictate national policy.
In "MacArthur's War," Bevin Alexander details MacArthur's military and political battles, from the alliances he made with Republican leaders to the threatening ultimatum he delivered to China against orders the action that directly led to his dismissal on April 11, 1951.
INCLUDES PHOTOGRAPHS.
About the Author
---
Bevin Alexander has published numerous works of military history, including the international bestseller "How Hitler Could Have Won World War II. "With honor degrees from The Citadel and Northwestern University, Alexander was awarded the Commendation Medal for his service as a combat historian in the Korean War, where he also won three battle stars for action at the front. He has appeared often on special programs on the History, Discovery, and Military channels. He has provided testimony before the House Committee on International Relations, advised the Rand Corporation on military strategy, and taken part in a war game at the Army War College.
Praise For…
---
"A very interesting account of Douglas MacArthur's initial brilliant Inchon assault, his strategy and tactics that led to rapid advances before his concepts for capturing and freeing North Korea collapsed in defeat, and finally his resort to political confrontation with the president...fascinating, factual, and well-documented…overall, a fair portrayal of history."—General Frederick J. Kroesen, former vice chief of staff of the U.S. Army and commander in chief, U.S. Army Europe

"Bevin Alexander has written a stirring and insightful account of General Douglas MacArthur's controversial role in the Korean War that culminated . . . in one of the most dramatic incidents in American military history."—Carlo D'Este, author of Patton: A Genius for War

"Bevin Alexander's Macarthur's War is a superbly written, blow-by-blow account of the most controversial civil-military clash in American history. His riveting narrative pulls no punches as it reveals how the feisty U.S. president confronted America's most revered military hero against the backdrop of brutal Korean War combat."—Colonel Jerry D. Morelock, PhD, U.S. Army (ret.), and editor in chief of Armchair General

"When President Harry Truman relieved General Douglas MacArthur of all his military commands at the height of the Korean War, it was a seminal moment in American history…Bevin Alexander's hard-hitting narrative captures in vivid detail the elements of that contest, as well as the chain of significant events that produced it…MacArthur's War is a valuable account of a chapter in the Cold War that we must never forget."—Harry J. Middleton, founding director of the Lyndon B. Johnson Presidential Library at the University of Texas, and author of LBJ: The White House Years