The Man from Pakistan: The True Story of the World's Most Dangerous Nuclear Smuggler (Paperback)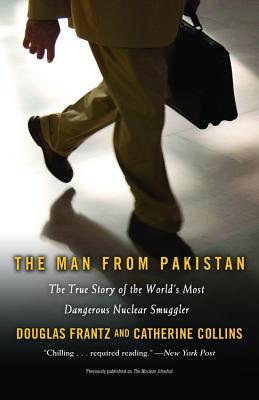 $24.99

usually available in 3-5 business days
Description
---
Major investigative nonfiction on one of the most important stories of our time -- the spread of nuclear weapons -- written by two award-winning journalists who for years have followed the trail of the world's most notorious arms dealer.
The world has entered a second nuclear age. For the first time since the end of the Cold War, the threat of nuclear annihilation is on the rise. Should such an assault occur, there is a strong likelihood that the trail of devastation will lead back to Abdul Qadeer Khan, the Pakistani father of the Islamic bomb and the mastermind behind a vast clandestine enterprise that has sold nuclear secrets to Iran, North Korea, and Libya. Khan's loose-knit organization was and still may be a nuclear Wal-Mart, selling weapons blueprints, parts, and the expertise to assemble the works into a do-it-yourself bomb kit. Amazingly, American authorities could have halted his operation, but they chose instead to watch and wait. Khan proved that the international safeguards the world relied on no longer worked.

Journalists Douglas Frantz and Catherine Collins tell this alarming tale of international intrigue through the eyes of the European and American officials who suspected Khan, tracked him, and ultimately shut him down, but only after the nuclear genie was long out of the bottle.
About the Author
---
Douglas Frantz is managing editor of the Los Angeles Times, where he has been a business reporter, an investigative reporter, and a foreign correspondent based in Istanbul. He has also been a reporter for the New York Times and the Chicago Tribune. He is a two-time Pulitzer Prize finalist and has won several honors for his investigative reporting.

Catherine Collins has been a reporter for the Chicago Tribune and written for the Los Angeles Times and the New York Times. She has authored several books with her husband, Douglas Frantz, including Celebration and Death on the Black Sea.