Little Men (Little Women Series) (Mass Market)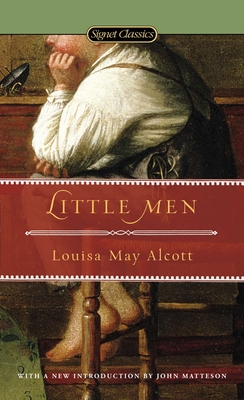 $5.95
usually available in 3-7 days
Description
---
At Plumfield, an experimental school for boys, the little scholars can do very much as they please, even slide down banisters. For this is what writer Jo Bhaer, once Jo March of Little Women, always wanted: a house "swarming with boys…in all stages of…effervescence." At the end of Little Women, Jo inherited the Plumfield estate from her diamond-in-the-rough Aunt March. Now she and her husband, Professor Bhaer, provide their irrepressible charges with a very different sort of education—and much love. In fact, Jo confesses, she hardly knows "which I like best, writing or boys." Here is the story of the ragged orphan Nat, spoiled Stuffy, wild Dan, and all the other lively inhabitants of Plumfield, whose adventures have captivated generations of readers.
About the Author
---
Louisa May Alcott
was born in Germantown, Pennsylvania, in 1832, and grew up in Concord, Massachusetts. She was the second of four daughters of Abba May and Bronson Alcott, a prominent transcendentalist thinker and social reformer whose idealistic preoccupations caused him to neglect his family's practical needs. Louisa began to shoulder her family's financial burdens at a young age—as a domestic, as a teacher, and as a writer, producing everything from sketches of her Civil War nursing experiences to pseudonymous, lurid thrillers. Fame and fortune came with the publication of
Little Women
in 1868-1869, a novel based upon her childhood experiences. This was followed by other books in the
Little Women
Series, all of them enormously popular:
An Old-Fashioned Girl
in 1870,
Little Men
in 1871,
Eight Cousins
in 1875, its sequel,
Rose in Bloom
, in 1876,
Under the Lilacs
in 1878,
Jack and Jill
in 1880, and finally, in 1886,
Jo's Boys
, the sequel to
Little Men
. Among her other books was the autobiographical novel
Work: A Story of Experience
in 1873. She was active in the women's suffrage and temperance movements until her death in 1888.
John Matteson holds doctoral degrees from Harvard and Columbia Universities. He is a professor of English at John Jay College of Criminal Justice in New York City and is deputy director of the Leon Levy Center for Biography. Matteson is the author of The Lives of Margaret Fuller and Eden's Outcasts: The Story of Louisa May Alcott and Her Father. For the latter book, he was awarded the 2008 Pulitzer Prize for Biography.
J. T. Barbarese is the author of three books of poems, including A Very Small World, and a translation of Euripedes' The Children of Heracles. His poems have appeared in The Atlantic Monthly, Boulevard, The Georgia Review, The Denver Quarterly, The Cortland Review and Poetry, and his literary journalism in numerous publications, from The Journal of Modern Literature to the New York Times. He is an assistant professor of English and creative writing at Rutgers University, where he teaches graduate and undergraduate courses in poetry, fiction, playwriting, Romanticism and children's literature.
Praise For…
---
"A natural source of stories...she is, and is to be, the poet of children."—Ralph Waldo Emerson 
"The novelist of children…the Thackeray, the Trollope, of the nursery and the schoolroom."—Henry James
"The best boys—in the literary sense—that we have ever come across."—
London Spectator