Le Mariage (Paperback)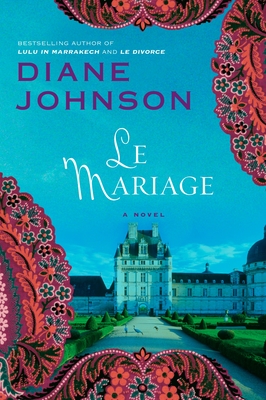 $15.00

Special Order - may be out of print
Description
---
"Like Jane Austen, Johnson delights in the worldly rituals surrounding courtship and marriage... she is a philosopher as much as a novelist."—The New Yorker
From the author of the acclaimed bestseller and National Book Award finalist 
Le Divorce, 
a sparkling comedy of manners once again set in the world of Americans in Paris
Anne-Sophie is a young Frenchwoman engaged to Tim Nolinger, an American journalist hot on the trail of a breaking story: The theft of a valuable illuminated manuscript from a private collection in New York, which may now be in the possession of a reclusive film director living on the outskirts of Paris. As Tim, Anne-Sophie, a pair of American antique dealers, and one amorous member of the local gentry converge on the director's chateau, the director's wife—a former actress—is accused of desecrating a national monument. Add to that a disappearing American; a hunting contretemps; a wrongful arrest; and murder, and you have this sexy, stylish, delight of a novel that celebrates the paradoxes of marriage and morality as they are perceived on both sides of the Atlantic. Filled with the author's pithy insights and hilarious asides, Le Mariage is Diane Johnson at her very best.
About the Author
---
Diane Johnson is the author of the bestselling novel Le Divorce, a National Book Award finalist, as well as many other novels, including Persian Nights, Health and Happiness, Lying Low, The Shadow Knows, and Burning. She was a finalist for the Pulitzer Prize for Persian Nights, and she co-authored the screenplay to The Shining with Stanley Kubrick. She divides her time between San Francisco and Paris.
Praise For…
---
"Another wickedly clever comedy of manners… In six degrees of separation, everybody is connected, yet the coincidences are artfully managed. Johnson's crisp manipulation of the engagingly convoluted plot is rooted in her central theme of French misconceptions about Americans, and vice versa. As exemplified by Holly and Cray, even those who share the same culture habitually fail to estimate the other accurately. Johnson's barbs are sophisticated and sharp, her amused irony is easily maintained, and her finesse at narrative is as fine tuned as her cultural sensitivity and her instincts about human behavior."—
Publishers Weekly
(starred review)
"Splendid entertainment... Johnson is one of our most astute cultural critics."—
The New York Times Book Review
"A comic novel in the classic manner, with smart style, piquant suspense, and dog-earingly epigrammatic prose."—San Francisco Chronicle
"A witty romp."—Elle
"Johnson whips love and marriage into a frothy souffle...delicious."—Entertainment Weekly
"Like Jane Austen, Johnson delights in the worldly rituals surrounding courtship and marriage...she is a philosopher as much as a novelist."—The New Yorker
"Rich, nuanced, and highly satisfying."—Glamour
 
"Johnson is a beguiling writer, serving up catty observations with loopy good humor… near-perfect… a masterly storyteller who can pull off a storybook ending—love, joy, a trip down the aisle—without making us gag."—Salon