L'Affaire (Paperback)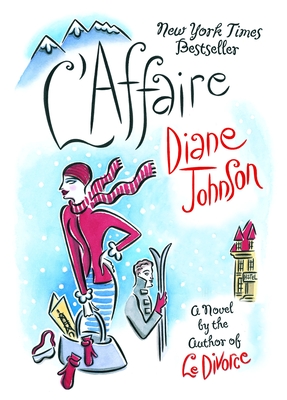 $15.00

Special Order - may be out of print
Description
---
"Johnson is more droll than Henry James, to whom she's been compared, and she's as witty as a modern-day Voltaire. Vraiment, L'Affaire, c'est irresistible!"
—
Publishers Weekly
Amy Hawkins, a Palo Alto girl who made herself a dot-com fortune, goes to France to get a sheen of sophistication and, perhaps, to have an affair that will ruffle her all-too-steady heart. She starts her quest in a glamorous resort in the French Alps, amid an assortment of aristocrats and ski enthusiasts. But when two of the hotel's guests are swept away by an avalanche, Adrian's children—young, old, legitimate, illegitimate—assemble to protect their interests, feuding under the competing laws of the British, American, and French systems.
Amy, already suspect because she is American, steps in to assist, and unintentionally sets in motion a series of events that spotlight ancient national differences, customs, and laws. Filled with love, sex, death, and travel, L'Affaire is National Book Award finalist Diane Johnson at her very best.
About the Author
---
Diane Johnson is the author of the bestselling novel Le Divorce, a National Book Award finalist, as well as many other novels, including Persian Nights, Health and Happiness, Lying Low, The Shadow Knows, and Burning. She was a finalist for the Pulitzer Prize for Persian Nights, and she co-authored the screenplay to The Shining with Stanley Kubrick. She divides her time between San Francisco and Paris.
Praise For…
---
"In Le Divorce and Le Mariage, Johnson polished her skill for sophisticated social comedy involving the cultural disconnections of Americans in France. Here, she perfects it in a deliciously entertaining story of a group of people drawn together—and divided by—the sharply different laws of succession in France and Britain… Johnson's dexterity with plot builds astounding but credible complications, and she is adept at rendering a kind of fugal counterpoint in which each character misunderstands what each of the others thinks. Because love and money are never far apart in Johnson's oeuvre, four affairs take place, with mixed results. Johnson is more droll than Henry James, to whom she's been compared, and she's as witty as a modern-day Voltaire. Vraiment, L'Affaire, c'est irresistible!"—Publishers Weekly

"Like the wildly successful Le Divorce and Le Mariage, Johnson's latest novel explores the strange alchemy that occurs when American and European social mores collide… Johnson's novel is exactly the kind of intricate, bittersweet comedy of manners her many fans have come to expect."—Booklist
"Immensely amusing… devilishly on target."—The New York Times Book Review
 
"An international confection in which each flavor remains distinct, the comedy high, the suspense sharp." —Los Angeles Times
 
"Full of tip-top invention [and] lightness of touch that has nearly disappeared from literary fiction, comic or otherwise… a pleasure."—The Atlantic

"An engaging story of Americans abroad and the cultural mayhem that follows in their wake. Johnson's trademark ability to deliver insightful observations on cultural stereotypes makes the novel delightfully entertaining. This fresh and sophisticated satire brings each character's motivations and prejudices sharply into focus, making the reader aware that perhaps we are all more alike than we care to think."—Joni Rendon, BookPage