The World in Six Songs: How the Musical Brain Created Human Nature (Paperback)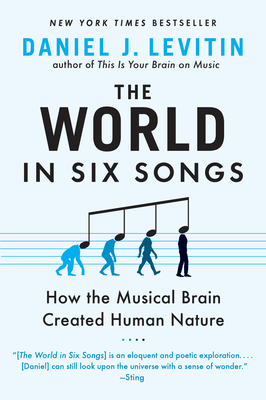 $18.00

Special Order - may be out of print
Description
---
The author of the New York Times bestseller This Is Your Brain on Music reveals music's role in the evolution of human culture in this thought-provoking book that "will leave you awestruck" (The New York Times).

Daniel J. Levitin's astounding debut bestseller, This Is Your Brain on Music, enthralled and delighted readers as it transformed our understanding of how music gets in our heads and stays there. Now in his second New York Times bestseller, his genius for combining science and art reveals how music shaped humanity across cultures and throughout history.

Here he identifies six fundamental song functions or types—friendship, joy, comfort, religion, knowledge, and love—then shows how each in its own way has enabled the social bonding necessary for human culture and society to evolve. He shows, in effect, how these "six songs" work in our brains to preserve the emotional history of our lives and species.

Dr. Levitin combines cutting-edge scientific research from his music cognition lab at McGill University and work in an array of related fields; his own sometimes hilarious experiences in the music business; and illuminating interviews with musicians such as Sting and David Byrne, as well as conductors, anthropologists, and evolutionary biologists. The World in Six Songs is, ultimately, a revolution in our understanding of how human nature evolved—right up to the iPod.
About the Author
---
Daniel J. Levitin, PhD, is a neuroscientist, cognitive psychologist, and bestselling author. He is Founding Dean of Arts & Humanities at the Minerva Schools at KGI in San Francisco, and Professor Emeritus of psychology and neuroscience at McGill University. He is the author of This Is Your Brain on Music, The World in Six Songs, The Organized Mind, A Field Guide to Lies, and Successful Aging. He divides his time between Los Angeles and the San Francisco Bay Area.
Praise For…
---
"A must-read...A literary, poetic, scientific, and musical treat."—Seattle Times

"Masterful...Eminently enjoyable."—Los Angeles Times

"Why can a song make you cry in a matter of seconds? Six Songs is the only book that explains why."—Bobby McFerrin, ten-time Grammy Award-winning artist ("Don't Worry, Be Happy")

"A fantastic ride."—New Scientist

"Leading researchers in music cognition are already singing its praises."—Evolutionary Psychology

"Exquisitely well-written and easy to read, serving up a great deal of scientific information in a gentle way for those of us who are—or just think we are—a bit science-phobic."—Huffington Post

"Fascinating. Provides a biological explanation for why we might tap our feet or bob our heads in time with a favorite song, how singing might soothe a baby, and how music emboldens soldiers or athletes preparing for conflict."—Associated Press

"An exemplary mix of scientist and artist, student and teacher, performer and listener."—Library Journal (starred review)