Power Boating for Dummies (Paperback)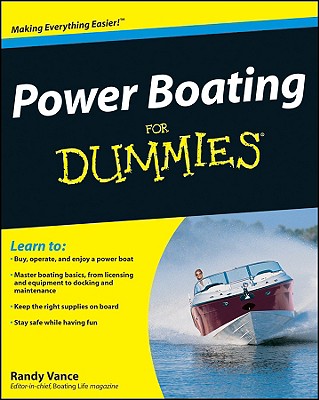 $26.99

usually available in 3-7 days
Description
---
Ahoy, there From docking and mooring to routine power boat maintenance and repairs, this handy guide is your trusted first mate for smooth sailing
For both new and experienced boaters, Power Boating For Dummies is a useful reference that covers the ins and outs of this exciting and popular sport. The book starts at the beginning, taking you through the process of buying a boat, but it's helpful to anyone who owns a boat. Designed to teach you how to pilot a boat, equip it, store it, tow it, handle emergencies, and more, -- it's a comprehensive guide written in jargon-free language .
Power Boating For Dummies teaches you everything you need to know about buying, operating, and enjoying a power boat up to 35 feet in length and provides expert guidance for anyone new to the sport and new tips and ideas for improving power boating for even those with some experience captaining a boat:
Calculate the costs of boating and compare those costs to non-boating activities
Decide which type of boat to buy -- fishing, runabouts, pontoon, cruisers, or houseboats
Know which mechanical checks to perform when you're looking at a pre-owned boat
Learn the rules of boater safety
Find out what it takes to acquire a boating license
Outfit your power boat with the right gear, equipment, and supplies -- for fun and safety
Operate your power boat, from launching and loading to driving, anchoring, and docking
Navigate with charts, GPS, and radar
Handle the weather and other boat emergencies
Check (and change) fluids, charge your boat's battery, and perform other routine maintenance tasks
Check and repair belts and propellers and fix leaks and other minor problems
Prepare your power boat for all seasons
Keep your boat's galley fully stocked
To learn about all of that and so much more, including boating tactics that separate the pros from the amateurs and all-important items you'll never set sail without, grab your copy of Power Boating For Dummies today.
About the Author
---
Randy Vance is a lifelong boater who has made a career of writing about boating. As the operator of a small resort and marina in Missouri for more than 20 years, Vance hosted or appeared on many radio and television programs covering boating and fishing topics. During his tenure at Boating Life, the magazine and some of Vance's articles have won awards in many publishing circles.