The Complete Poetry and Prose of William Blake: With a New Foreword and Commentary by Harold Bloom (Hardcover)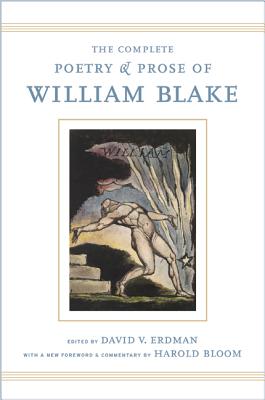 Email or call for price.
usually available in 3-7 days
Description
---
Since its first publication in 1965, this collection has been widely hailed as the best available text of William Blake's poetry and prose. It is now expanded to include a new foreword by Harold Bloom, his definitive statement on Blake's greatness.
About the Author
---
Largely unrecognized during his lifetime, William Blake (1757-1827) was a visionary English poet, painter, and printmaker. His wide-ranging influence can be seen in genres from theology and literature to popular music and graphic novels.
Praise For…
---
"An essential book in the study of an always fascinating author."
— Times Literary Supplement

"'Blake's most reliable historical and textual scholar' presents the work of the poet, artist and engraver (1757-1827); included are "The Lamb" ("Little Lamb who made thee"), "Never Pain to Tell They Love" ("?Love that never told can be?"), and "The Poison Tree" ("I was angry with my friend; / I told my wrath, my wrath did end")."
— Foreword Reviews