Being Wagner: The Story of the Most Provocative Composer Who Ever Lived (Paperback)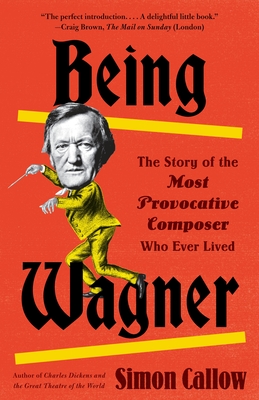 Staff Reviews
---
Richard Wagner is a composer who has evoked strong reactions of adoration and aversion from music lovers for generations. Simon Callow has written a fast-paced, clearly-written life of the composer, giving us a crisp narrative not only about the music but into the many passions and quirks driving this irascible and unstoppable genius.
One needn't be an opera fan or a Wagner fan to enjoy and learn from Being Wagner! There is an excellent balance of vivid historic and social context, humor, and musical observation in this engaging and insightful book. I came away from reading Being Wagner with fresh appreciation for Wagner's achievements as well as a better understanding of his difficult, complex personality.
Callow is a multi-faceted talent: actor, director, author and astute social observer. He brings a keen and insightful sense of culture, theater, theater, and political activism to the life and work of Wagner.

Liz
— From
Liz
Description
---
Simon Callow, the celebrated author of Orson Welles, delivers a dazzling, swift, and accessible biography of the musical titan Richard Wagner and his profoundly problematic legacy--a fresh take for seasoned acolytes and the perfect introduction for new fans.

Richard Wagner's music dramas have never been more popular or more divisive. His ten masterpieces, created against the backdrop of a continent in severe political and cultural upheaval, constitute an unmatched body of work. A man who spent most of his life in abject poverty, inspiring both critical derision and hysterical hero-worship, Wagner was a walking contradiction: belligerent, flirtatious, disciplined, capricious, demanding, visionary, and poisonously anti-Semitic. Acclaimed biographer Simon Callow evokes the intellectual and artistic climate in which Wagner lived and takes us through his most iconic works, from his pivotal successes in The Flying Dutchman and Lohengrin, to the musical paradigm shift contained in Tristan and Isolde, to the apogee of his achievements in The Ring of the Nibelung and Parsifal, which debuted at Bayreuth shortly before his death. Being Wagner brings to life this towering figure, creator of the most sublime and most controversial body of work ever known.
About the Author
---
Simon Callow made his stage debut in 1973 and came to prominence in a critically acclaimed performance as Mozart in the original stage production of Peter Shaffer's Amadeus at the Royal National Theatre in 1979. He is well known for a series of one-man shows that have toured internationally and featured subjects such as Charles Dickens, Oscar Wilde, William Shakespeare, Jesus, and Richard Wagner. Among his many film roles is the much-loved character Gareth in the hit film Four Weddings and a Funeral. Callow has simultaneously pursued careers as a director in theater and opera and is an author of several books, including Being an Actor, Love Is Where It Falls, and a biography of Charles Laughton.
Praise For…
---
International Praise for Simon Callow's Being Wagner

"Would Callow be able to tell me, in layman's language, what it is about Tristan that makes it so powerful? The answer, I am happy to say, is yes. The perfect introduction for those, like me, who may not be obsessives but who sense that something profound is going on, and would like to know more. . . . A delightful little book." --Craig Brown, The Mail on Sunday (London)

"A sparkly written, witty, learned, and absorbing account, Callow brings The Master vividly to life." --The Times (London)

"Intelligent, fluent, and buoyant." --The Daily Telegraph (London)