The Ministry of Truth: The Biography of George Orwell's 1984 (Paperback)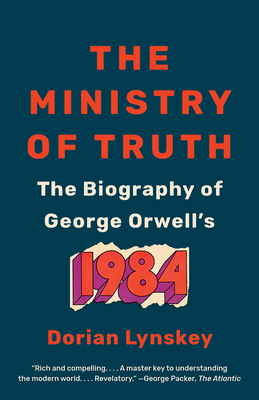 Description
---
1984 isn't just a novel; it's a key to understanding the modern world. George Orwell's final work is a treasure chest of ideas and memes—Big Brother, the Thought Police, Doublethink, Newspeak, two plus two equals five—that gain potency with every year. Its vast influence resonates throughout world culture at every level, from high to pop.
 
The Ministry of Truth is the first book to fully examine the origin and legacy of 1984: its roots in the utopian and dystopian literature that preceded it; the personal experiences in the Spanish Civil War and wartime London that Orwell drew on as he struggled to finish his masterpiece in his final years; and the political and cultural shockwaves that the novel triggered at once upon publication and which, far from subsiding, have only grown over the decades. It explores how history informs fiction and fiction explains history.



About the Author
---
DORIAN LYNSKEY has been writing about music, film, and politics for more than twenty years for publications including The Guardian, The Observer, GQ, Q, Empire, Billboard, and The New Statesman. His first book, 33 Revolutions Per Minute: A History of Protest Songs, was published in 2011.
Praise For…
---
Longlisted for Britian's Ballie Gifford Prize
Bloomberg's Defining Book of 2019

"Wide-ranging and sharply written. . . . Lynskey is surely right . . . to note that the meaning of Orwell's novel has shifted over the decades along with the preoccupations of its readers; and that in our low, dishonest moment, it is 'most of all a defense of truth.'" —The New York Times Book Review 

"A rich and compelling case for the novel as the summation of Orwell's entire body of work and a master key to understanding the modern world. . . . Lynskey's account of the reach of 1984 is revelatory." —George Packer, The Atlantic 

"A must-read for Orwellian Times. . . . Has the zest and momentum of a Stephen King novel, and the piercing clarity and dark sensibility of Orwell himself." —Bloomberg

"Dorian Lynskey's The Ministry of Truth manages, against all odds, to find many original points to make about the dystopian classic." —New Statesman

"Arresting. . . . [The Ministry of Truth] joins the dots between the age of fake news and Orwell's work." —The Economist

"Thoroughly researched and wear[s] its scholarship lightly. . . . Cheeringly downbeat. . . . This astute study locates the origins of the novel and its life within pop culture." —The Guardian 

"Dorian Lynskey's book amounts to a comprehensive survey of the history of utopia and dystopia, centering on Orwell's immensely influential novel, and it is full of connections that make the reader's mind spin off in all directions and search the bookshelves and the internet. . . . This thought-provoking book explores the many possibilities of what [Orwell] may have meant by 'it.'" —Margaret Drabble, The Times Literary Supplement 

"Perhaps the best book of its kind that I've ever read. The portrait it provides of Orwell is sharp, nuanced, and moving, and its capsule histories of the major and minor planets in orbit around 1984 are surprising and deeply informative. Above all, it's just flat out fun to read. With The Ministry of Truth, Dorian Lynskey has done anyone who loves literature a great service." —Tom Bissell, author of Apostle and co-author of The Disaster Artist
 
"Gaslighting, doublespeak, the horror of a crowd of human 'gramophones . . . playing the same tune' at frenzied rallies where mob and demagogue crescendo together in an orgasm of hate: Orwell saw our future and sent us a time capsule to be opened in case of emergency. That moment is now. Briskly written and brilliantly argued, The Ministry of Truth delves deep into the cultural impact—and terrifying relevance—of a book that, 70 years on, still delivers the jolt of a torturer's electrodes." —Mark Dery, author of Born to be Posthumous: The Eccentric Life and Mysterious Genius of Edward Gorey 
 
"A deeply researched and highly readable intellectual history, providing a wealth of information and anecdotes about Orwell's life and work. Lynskey skillfully weaves together literary and political histories to create a rich tapestry, full of context, color and insight into one of the most important books of the last century—and thus far, this century as well. The Ministry of Truth is an illuminating and entertaining companion to 1984, a novel whose relevance and necessity are more evident than ever, at a time when the very concept of objective reality is under attack."  —Charles Yu, author of How to Live Safely in a Science Fictional Universe

"Fascinating. . . . Freshly and powerfully argued. . . . Richly informative. . . . If you have even the slightest interest in Orwell or the development of our culture, you should not miss this engrossing, enlivening book."  —John Carey, The Sunday Times (London) 
 
"[A] vibrant, spirited story of a man and his book. . . .Lynskey does a superb job analyzing the young Orwell's political beliefs, his hatred of fascism, and his 'vision of common sense radicalism'. . . . [A] fascinating literary history." —Kirkus Reviews