The Smallest Lights in the Universe: A Memoir (Hardcover)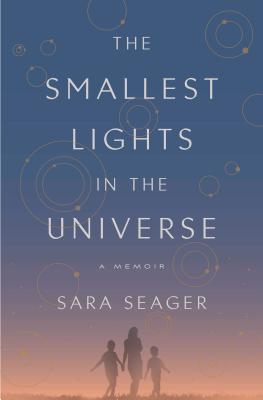 $28.00
usually available in 1-5 days
Staff Reviews
---
This book is coming on August 18, and I can't wait to put it in your hands!
Renowned MIT astrophysicist (and fellow Concordian) Sara Seager has spent her career searching for alien life - exoplanets that will sustain life, not as we know it here on Earth, but life nonetheless. After she is widowed in her early 40s, love for her two young boys is the impetus to find her way back to sustaining her own life in this 'new normal.'
THE SMALLEST LIGHTS IN THE UNIVERSE is marvelous twining of these two threads. Seager makes the science accessible and interesting for a lay person, and bares the emotions of her widowhood, pulling the reader into her journey. Her story is both intensely personal and universal in its portrayal of the anger and disorientation that often follows the devastating loss of a loved one.
This memoir is a page-turning read, as Sara Seager finds her North Star deep inside herself, in a group of other young widows in town, and in a new life partner. Highly recommended. p.s. Science is real!
— Dawn
Description
---
In this luminous memoir, an MIT astrophysicist must reinvent herself in the wake of tragedy and discovers the power of connection on this planet, even as she searches our galaxy for another Earth.

"Sara Seager's exploration of outer and inner space makes for a stunningly original memoir."—Abraham Verghese, author of Cutting for Stone

Sara Seager has always been in love with the stars: so many lights in the sky, so much possibility. Now a pioneering planetary scientist, she searches for exoplanets—especially that distant, elusive world that sustains life. But with the unexpected death of Seager's husband, the purpose of her own life becomes hard for her to see. Suddenly, at forty, she is a widow and the single mother of two young boys. For the first time, she feels alone in the universe.

As she struggles to navigate her life after loss, Seager takes solace in the alien beauty of exoplanets and the technical challenges of exploration. At the same time, she discovers earthbound connections that feel every bit as wondrous, when strangers and loved ones alike reach out to her across the space of her grief. Among them are the Widows of Concord, a group of women offering advice on everything from home maintenance to dating, and her beloved sons, Max and Alex. Most unexpected of all, there is another kind of one-in-a-billion match, not in the stars but here at home.

Probing and invigoratingly honest, The Smallest Lights in the Universe is its own kind of light in the dark.
About the Author
---
Sara Seager is an astrophysicist and a professor of physics and planetary science at MIT. She led NASA's Probe Study team for the Starshade project. Her research is focused on the search for the first Earth-like exoplanet, and she has introduced many new ideas to the field of exoplanet characterization, including work that led to the first detection of an exoplanet atmosphere. She lives with her family in Concord, Massachusetts.
Praise For…
---
"It is the easiest thing in the world to resign yourself to what is, to curl around yourself and your circumstances. This is a book filled with hope and wonder, because falling in love after loss is a defiant act of optimism, much like searching the stars for life beyond our own little planet. You'll leave this book feeling possibility and inevitability, comforted by the knowledge that even in the dark, we are not alone."—Nora McInerny Purmort, author of It's Okay to Laugh 
 
"Sara Seager's exploration of outer and inner space makes for a stunningly original memoir. Far from being dwarfed by the scale of exoplanets and galaxies, her most human tale of love, loss, and redemption is illuminated and given meaning by this backdrop. . . . A beautiful and compelling read."—Abraham Verghese, author of Cutting for Stone
 
"I absolutely loved this book. It presents both cutting-edge science and the deeply human side of a MacArthur award–winning woman astrophysicist. While searching for other planets in the universe, she grieves for her husband who died of cancer."—Temple Grandin, author of Thinking in Pictures and The Autistic Brain
 
"The miracle of this breathtaking book is the way Sara Seager's search for life in the universe mirrors her search for a fitting life here on earth. Who knew that so much love and beauty and hope could come from so much confusion and fear and grief? Who knew that the macrocosm and the microcosm could end up being the very same thing?"—Margaret Renkl, author of Late Migrations
 
"Seager's beautifully written memoir strikes the perfect balance, weaving a richly told personal story with a clear and accessible tale of the birth and development of a new kind of astronomy—the search for other worlds like our own."—Katie Mack, author of The End of Everything (Astrophysically Speaking)