What-The-Dickens: The Story of a Rogue Tooth Fairy (Compact Disc)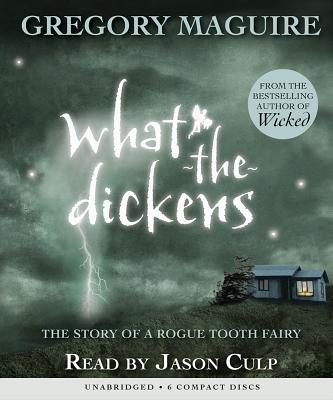 $34.95
Backordered - OK to 'add to cart' and we'll let you know when your copy is here
Description
---
From the author of the best-selling Wicked, a transporting tale-within-a-tale about the strange world of skibereen--aka tooth fairies--and the universal need to believe.
Format: 5 CDs, Unabridged
It's the story of What-the-Dickens, a newly hatched orphan creature who finds he has an attraction to teeth, a crush on a cat named McCavity, and a penchant for getting into trouble. One day he happens upon a feisty girl skibberee who is working as an Agent of Change--trading coins for teeth--and learns that there is a dutiful tribe of skibbereen (call them tooth fairies) to which he hopes to belong. As his tale of discovery unfolds, however, both What-the-Dickens and Dinah come to see taht the world is both richer and less sure than they ever imagined.
NARRATED by Jason Culp.
About the Author
---
Gregory Maguire is the author of more than a dozen novels for children as well as four adult novels, including Wicked: The Life and Times of the Wicked Witch of the West, which was made into a hit Broadway musical. He lives outside Boston, Massachusetts.