The Savage Fortress (Hardcover)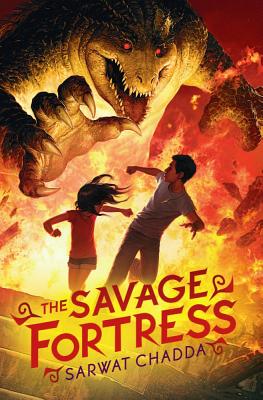 $16.99
Usually Ships in 1-5 Days
Description
---
For fans of Roshani Chokshi and Rick Riordan!

"A fabulous, action-packed modern take on Indian mythology. I can't wait to read more!" -- Rick Riordan, author of the Percy Jackson series

After three weeks of vacation, Ash Mistry is ready to leave the heat and dust of India behind him. Then he discovers a hidden gold arrowhead---a weapon used to defeat evil King Ravana in legend.

At least, Ash is pretty sure it's only a legend . . .

But when Lord Savage comes after Ash, the legends are suddenly way too real. Savage commands an army of monstrous shapechangers called rakshasas, who want only to seize the arrowhead and restore Ravana to power. As they hunt Ash through magnificent fortresses and brutal deserts, he must learn to work with a powerful rakshasa girl named Parvati, and find the strength within himself to fight on and save the world as we know it.
About the Author
---
Sarwat Chadda is the author of the YA novels DEVIL'S KISS and DARK GODDESS. A former engineer, he is very glad to now be constructing stories and not ductwork systems. He lives in London, England, with his family. Visit him on the web at www.sarwatchadda.com and @sarwatchadda.
Praise For…
---
"Plot-driven, fast paced, exciting, and sometimes terrifying, The Savage Fortress is the ideal next step for readers who loved Rick Riordan's books about the Olympian heroes and Anthony Horowitz's "Gatekeepers" series...Make time for this novel, because it is very hard to put down." -- School Library Journal, starred review

"A knock-down, drag-out adventure… A rousing and breathtaking climax supports the tied-up threads of the ending. Nonstop action and likable teen characters will attract fans of fantasy quests such as the Percy Jackson books and the saga of Nicholas Flamel." -- Kirkus Reviews

"A classic hero's quest, this action-packed story has its protagonist making the transformation from portly, brainy everyday kid to courageous, physically strong warrior with relative ease.... The incorporation of the Ramayana legend serves as a basic introduction to Indian deities; fans of Riordan's Kane Chronicles, Indiana Jones, and the like will appreciate this non-Western take on fantasy adventure." -- Bulletin of the Center for Children's Books