A New Class (Star Wars: Jedi Academy #4) (Hardcover)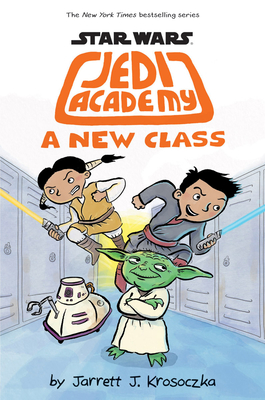 $12.99

usually available in 3-7 days
Other Books in Series
This is book number 4 in the Star Wars: Jedi Academy series.
Description
---
"A New Class" arrives in the fourth episode of Star Wars® Jedi Academy! There are some new faces and old, but the amount of laughs and fun is still the same!Victor Starspeeder is psyched to be starting school at the Jedi Academy. His sister, Christina does not share an enthusiasm for Victor's newfound educational path. She's horrified that her annoying baby brother will be there to cramp her style.While Victor means well, his excess energy leads him to spend a lot of time in detention with the little, green sage, Yoda. Yoda wants to channel Victor's talents, so he makes the young Padawan join the drama club. Victor is not pleased. "Learn to control your anger, you must! Successfully manage their emotions, a good Jedi can. Box step and jazz hands ... hee hee ... young Padawan will!"Victor will have to make new friends, get on his sister's good side, learn to use the force, and hope the year's drama club performance ("Wookiee Side Story"? "Annie Get Your Lightsaber"?) goes off without a hitch!
About the Author
---
Jarrett J. Krosoczka is a New York Times bestselling author, a two-time winner of the Children's Choice Book Award for the Third to Fourth Grade Book of the Year, an Eisner award nominee, and the author and/or illustrator of more than 30 books for young readers. His critically acclaimed graphic novel memoir Hey, Kiddo was a National Book Award Finalist. His work includes several picture books, select volumes of Star Wars: Jedi Academy, the Lunch Lady graphic novels, and the Platypus Police Squad novel series. Jarrett has given two TED Talks, both of which have been curated to the main page of TED.com and have collectively accrued more than two million views online. He is also the host of The Book Report with JJK on SiriusXM's Kids Place Live, a weekly segment celebrating books, authors, and reading. Jarrett lives in Western Massachusetts with his wife and children, and their pugs, Ralph and Frank.