The True Adventures of Charley Darwin (Paperback)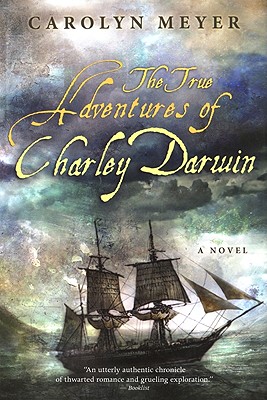 $9.99

Special Order - may be out of print
Description
---
Young Charley Darwin hated school—he much preferred to be outside studying birds' eggs, feathers, and insects. And so, at the age of twenty-one, he boarded a ship called HMS Beagle and spent five thrilling but dangerous years sailing around the world, studying plant and animal life that was beyond anything he could have imagined.
Historical novelist Carolyn Meyer tells the story of his unconventional adventures of the author of the legendary book The Origin of Species. It's the story of a restless childhood, unrequited teenage love, and a passion for studying nature that was so great, Darwin would sacrifice everything to pursue it.
About the Author
---
Carolyn Meyer is the acclaimed author of more than fifty books for young people. Her many award-winning novels include Mary, Bloody Mary, an ABA Pick of the Lists, an NCSS-CBC Notable Children's Trade Book in the Field of Social Studies, and an ALA Best Book for Young Adults; Anastasia: The Last Grand Duchess, a New York Times bestseller; White Lilacs, an ALA Best Book for Young Adults, an NYPL Best Book for the Teen Age, and an IRA Young Adults' Choice; and Marie, Dancing, a BookSense Pick. Ms. Meyer lives in Albuquerque, New Mexico. Visit her website at www.readcarolyn.com.
Praise For…
---
"Focusing on Charles Darwin's youth, this historical novel hooks readers with a revelatory opener: Darwin's nose almost kept him off the Beagle—the captain believed that facial features indicated character and the 22-year-old Darwin's honker bespoke a lack of energy and determination. Entertaining her audience throughout, Meyer (Mary, Bloody Mary) keeps Charley likable and easy to relate to, from his hatred of school food and fear of bullies to his anxiety over choosing a career. The pacing is particularly good, and readers get a full sense of Darwin's relationships and his joy in his discoveries. A well-told story that will appeal to all readers, not just those drawn to science."--Publishers Weekly "Meyer's re-imagining is notable . . . for the believable voice, which recalls the gently humorous tone of Darwin's own writing, that of a man quite willing to make light of his own foibles."--The Bulletin "Exceptionally well researched, and written as a novel in the first person, THE TRUE ADVENTURES OF CHARLEY DARWIN is a colorful story."--Richie's Picks —