The Brothers K (Paperback)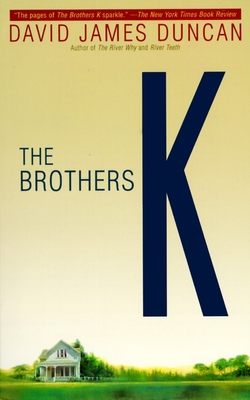 $18.00
usually available in 1-5 days
Staff Reviews
---
After 35 years, John Irving's The World According to Garp has been supplanted by David James Duncan's The Brothers K as my all-time favorite novel. Although baseball is a critical theme, this is anything but a baseball book. It is a family saga spanning the 50s, 60s, and 70s that focuses on four brothers and their perilous, though distinctive, journeys into adulthood.

The brothers, along with their parents and two sisters, are all memorable characters, exquisitely developed through their struggles with family dynamics, religion, the Vietnam War, and yes, baseball. The book is both funny and poignant, so be prepared to laugh and cry. It is also clearly a commitment given its length, but one that will reap great satisfaction. Take a chance with the Chance Family; I only regret that it took me so long to discover this gem.
— From
Art
Description
---
A NEW YORK TIMES NOTABLE BOOK
 
Once in a great while a writer comes along who can truly capture the drama and passion of the life of a family. David James Duncan, author of the novel The River Why and the collection River Teeth, is just such a writer. And in The Brothers K he tells a story both striking and in its originality and poignant in its universality.
 
This touching, uplifting novel spans decades of loyalty, anger, regret, and love in the lives of the Chance family. A father whose dreams of glory on a baseball field are shattered by a mill accident. A mother who clings obsessively to religion as a ward against the darkest hour of her past. Four brothers who come of age during the seismic upheavals of the sixties and who each choose their own way to deal with what the world has become. By turns uproariously funny and deeply moving, and beautifully written throughout, The Brothers K is one of the finest chronicles of our lives in many years.
 
Praise for The Brothers K

"The pages of The Brothers K sparkle."—The New York Times Book Review

"Duncan is a wonderfully engaging writer."—Los Angeles Times

"This ambitious book succeeds on almost every level and every page."—USA Today

"Duncan's prose is a blend of lyrical rhapsody, sassy hyperbole and all-American vernacular."—San Francisco Chronicle

"The Brothers K affords the . . . deep pleasures of novels that exhaustively create, and alter, complex worlds. . . . One always senses an enthusiastic and abundantly talented and versatile writer at work."—The Washington Post Book World

"Duncan . . . tells the larger story of an entire popular culture struggling to redefine itself—something he does with the comic excitement and depth of feeling one expects from Tom Robbins."—Chicago Tribune
About the Author
---
David James Duncan is the author of The River Why, which won the Pacific Northwest Booksellers Award in 1983, and River Teeth, a collection of stories and writings. He lives with his wife, the sculptor Adrian Arleo, and family, in Western Montana where he is at work on his next novel.
Praise For…
---
"The pages of The Brothers K sparkle."—The New York Times Book Review
 
"Duncan is a wonderfully engaging writer."—Los Angeles Times
 
"This ambitious book succeeds on almost every level and every page."—USA Today
 
"Duncan's prose is a blend of lyrical rhapsody, sassy hyperbole and all-American vernacular."—San Francisco Chronicle
 
"The Brothers K affords the . . . deep pleasures of novels that exhaustively create, and alter, complex worlds. . . . One always senses an enthusiastic and abundantly talented and versatile writer at work."—The Washington Post Book World
 
"Duncan . . . tells the larger story of an entire popular culture struggling to redefine itself—something he does with the comic excitement and depth of feeling one expects from Tom Robbins."—Chicago Tribune