Strong Women Stay Slim: Shed Fat Forever with the Extraordinary Power of Strength Training! (Paperback)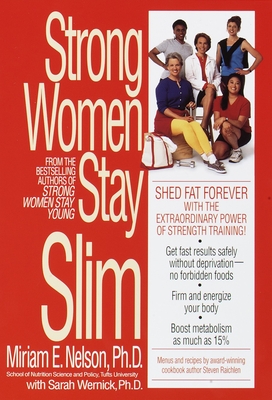 $17.00
Usually Ships in 1-5 Days
Description
---
From the bestselling authors of Strong Women Stay Young, an exciting, medically sound program to help you boost your metabolism and melt away fat!

Scientific research has shown that strength training increases metabolism--a key to permanent weight loss--by as much as 15 percent. In fact, a Tufts University study comparing women on identical diet plans found that the strength-training group lost 44 percent more fat than the diet-only group.

Strong Women Stay Slim has everything you need to shape up and feel great--no matter what your age or fitness level:

Fully illustrated exercises especially designed for weight loss
Up-to-the-minute information about weight, appetite, nutrition, and fitness--explaining why this program works
A hunger-free food plan, including menus and delicious recipes from award-winning cookbook author Steven Raichlen
Progress logs and extra guidance for the first ten weeks
Motivational secrets...and more
About the Author
---
Miriam E. Nelson, Ph.D., is Associate Chief of the Human Physiology Laboratory at the Jean Mayer USDA Human Nutrition Research Center on Aging at Tufts University and Assistant Professor at the School of Nutrition Science and Policy. She is also a Fellow of the American College of Sports Medicine and a Bunting Fellow at Radcliffe College.

Steven Raichlen is the author of fifteen cookbooks and the winner of a Julia Child/IACP Award and two James Beard Awards for his High-Flavor, Low-Fat series.

Sarah Wernick, Ph.D., is an award-winning freelance health writer.
Praise For…
---
"This book is a gem...thoroughly based in science, yet written to help women get started immediately to make their lives better today. It's jam-packed with ready-to-go tools for success."
--Barbara Harris, editor in chief, Shape magazine

"Practical, easy-to-follow, and medically sound...This program combines the essentials for living a long, healthy, and physically active life."
--Kenneth H. Cooper, M.D., M.P.H., author of The Aerobics Program for Total Well-Being