to.be.continued (Paperback)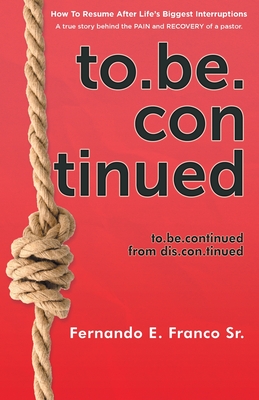 $12.99
usually available in 5-10 days
Description
---
This book is the sequel of dis.con.tinued. Dis.con.tinued was ranked #1 on Amazon's new releases immediately after the publication date.
In to.be.continued, Fernando E. Franco Sr., helps you to:
Discover how to resume after life's biggest interruptions.
Accept that people of all races and colors are made up of feelings and are free to judge who they want.
Understand that not a soul is exempt from hurt.
Know the four categories of anger.
Be aware of four areas of life's interruptions and how to stop them immediately.
Release the pause button and press play.
Recognize the difference between successful, mediocre, and lazy people.
Face the truth that there is one thing in life you can't borrow. You can't borrow tomorrow.
Learn how to knock out the devil.
Believe once again in your dreams.
And many more...
It is time to read this book It's your time to press the play button, for your pause has come to an end Let us get going and get back at doing life and loving it.
We have officially gone from DIS.CON.TINUED - TO.BE.CONTINUED.