The Little Engine That Could: Delivery Day (Hardcover)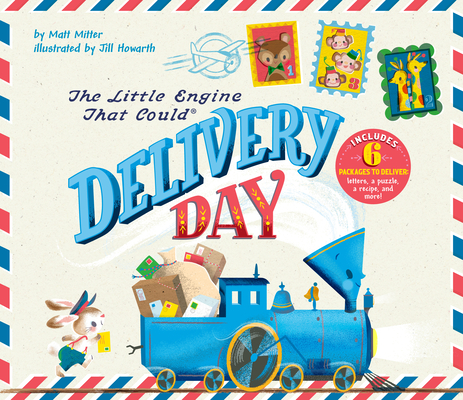 Description
---
Join The Little Engine That Could on her Delivery Day! Follow along in this rhyming story and open each package to discover a surprise inside! Includes 6 envelopes to deliver: letters, puzzles, a recipe, and more!

All aboard for a brand-new Little Engine story! Little Engine agreed to deliver the mail when the Postman went off on vacation. Now, readers can come along for the ride as she travels from friend to friend delivering mail. With delightful rhymes on every page, plus real, folded letters and envelopes inside, Little Engine fans will find a surprise on every page, including stamps from around the world, recipes sent with love, long-awaited packages, and so much more.
About the Author
---
Matt Mitter was born in Oklahoma City. Over the past ten years, he has written dozens of children's books, mostly in verse. He lives in New Jersey with his wife and their dog, Hitch.

Watty Piper was a pen name of Arnold Munk, an owner of the publishing firm Platt & Munk. Arnold Munk used the name Watty Piper as both an author of children's books and as the editor of many of the books that Platt & Munk published.

Born in a sleepy little town in the hills of Pennsylvania, Jill Howarth always knew she wanted to be an artist. Upon graduating from Penn State University with a degree in graphic design, she entered the corporate design world. As a senior designer and then art director at Hasbro Toys, she occasionally embellished collateral and product packaging with fun little drawings. More requests for these illustrations came her way and before she knew it, she was doing more drawing and less layout design. After leaving corporate life to start a family, she began freelancing. She lives just west of Boston, with her husband, three teenagers and a crazy, lazy dog.