Traffic: Genius, Rivalry, and Delusion in the Billion-Dollar Race to Go Viral (Hardcover)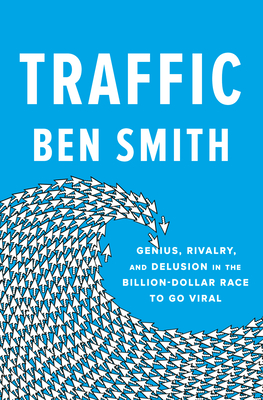 $30.00

usually available in 3-5 business days
Description
---
"Engrossing and suspenseful." —The New York Times

"Expertly pulls readers in." —The Guardian
 
"Smith sharply chronicles the revolutionary moment." — Financial Times

The origin story of the Age of Disinformation: the candid inside tale of two online media rivals, Jonah Peretti of HuffPost and BuzzFeed and Nick Denton of Gawker Media, whose delirious pursuit of attention at scale helped release the dark forces that would overtake the internet and American society.

If attention is the new oil, Ben Smith's Traffic is the story of the time between the first gusher and the impact of climate change. The curtain opens in Soho in the early 2000s, after the first dotcom crash but before Google, Apple, and Facebook exploded, when it seemed that New York City rather than Silicon Valley might become tech's center of gravity. There, within a few square blocks, Nick Denton's merry band of nihilists at his growing Gawker empire and Jonah Peretti's sunnier crew at HuffPost and BuzzFeed were building the foundations of viral internet media. It was tech's age of innocence: the old establishment might have been discredited by the Iraq War, but digital news would facilitate the spread of truth. After all, didn't progressive activists online get Barack Obama elected?

Ben Smith, who would go on to earn a controversial reputation as BuzzFeed's editor-in-chief, was there to see it, and he chronicles it all with marvelous lucidity scored with dark wit, sparing no one—and certainly not himself. Smith tells a nuanced story: yes, Denton's ideology of radical transparency was problematic, but at least he had an ideology. Jonah Peretti survived long after Denton's Gawker perished because his focus on clicks was relentlessly content-agnostic. But unintended consequences began to snowball.

Traffic explores one of the great ironies of our time: the internet, which was going to help the left remake the world in its image, has become the motive force of right populism. People like Steve Bannon and Andrew Breitbart and Gavin McInnes and Chris Poole, the creator of 4chan, all seemed like minor characters in the narrative in which Nick and Jonah and crew were the stars. By 2020, any reasonable observer might wonder if the opposite wasn't the case. To understand how we got here, Traffic is essential and enthralling reading.
About the Author
---
Ben Smith is the editor in chief of Semafor, a new global news company. He is the former media columnist for The New York Times and founding editor in chief of BuzzFeed News. Before that, he was among the first reporters to adapt the tools of the internet to political journalism for the Observer (New York), the New York Daily News, and Politico. He lives in Brooklyn with his wife and three children.
Praise For…
---
"Engrossing and suspenseful . . . Can viral political content ever be valuable political content—and vice versa? Anxiety about this question haunts Smith, and this moral seriousness is what lifts Traffic above other accounts of adventures in start-up land." —Virginia Heffernan, New York Times

"Ben Smith's new book shows how the race for clicks spawned—then strangled—the new media . . . Illuminating." —The New Yorker

"Expertly pulls readers in . . . Graced with a keen eye and sharp wit, [Smith] . . . captures the drama with light prose and a breezy tone. He observes that internet news morphed from being a vehicle for the left into the tool of the right. It's a lesson worth remembering." —The Guardian
 
"Ben Smith's account of the rise and fall of BuzzFeed and Gawker Media, the pioneering group of blogs run by Nick Denton, is an amusing story of New York ambition and hubris. But it has a deeper social significance: both the news business and politics were infiltrated by the clickbait techniques they developed. . . Smith sharply chronicles the revolutionary moment. . . [he] tells the story energetically, with plenty of insider gossip about the digital journalists who briefly became media stars (at least to a small circle of like-minded Manhattanites). But Traffic would be less worthwhile were it just a traditional narrative of the rise and fall of a business. Its insight lies in Smith's reflections on how many of the techniques pioneered by Peretti and Denton have been absorbed into the mainstream. Everyone craves traffic now." —Financial Times

"A well-constructed narrative full of in-depth, on-the-scene reporting . . . Traffic is a fascinating book because it lays out the important ways that traffic was a god that failed." —Sonny Bunch, The Bulwark

"A detailed, smart account of the foibles of those early days, when no one knew how to conduct decent journalism and make money at the same time. [Smith's] discussion of the Huffington Post is especially telling as a study in haplessness. Along the way, he tells entertaining out-of-school tales of the early Facebook, the Drudge Report, Breitbart, and Twitter. Self-aware and self-critical, Smith allows that while all these entities helped create today's digital culture, it was often not for the better, even if Denton today voices hope for 'a Talmudic internet still to be made.' There's no better history of the Wild West days of early social media than this one." —Kirkus (starred review)

"A riveting insider's look at the history of online news media . . . Smith's rigorous journalism and proximity to his subject imbue this with abounding insight, and the author's sharp eye for character gives it the feel of a novel. Sobering and captivating, this is an essential take on the 21st-century media landscape." —Publishers Weekly (starred review)

"Ben Smith's book Traffic, a story of rising and falling fortunes in digital media, is more than just an engagingly written page-turner. It's a hunt for the signal within the noise, the meaning within the online nonsense. It's both a great read and a search for something more substantial within the American political conversation." —Ian Bremmer

"Ben Smith is the Tom Wolfe of our digital age: the writer capturing what we lived through, what to make of it and—best of all—the drama of billion-dollar rivalries between nerds and delinquents. Traffic profiles the grifters, dreamers, geniuses and asshats who constructed the golden age of digital media. You should absolutely read this book." —Charles Duhigg, bestselling author of The Power of Habit and Smarter Faster Better
 
"This is a rollicking and fun, but also unnerving, chronicle of how the colorful characters at Gawker, BuzzFeed and other outlets invented the era of viral media and what the consequences, both bright and very ominous, have been. It's a joy to read, but it will also open your eyes to how hot medias have melted our democracy." —Walter Isaacson, bestselling author of The Code Breaker

"Traffic is the definitive account of the rise of digital media and the attention economy. The book is smart, entertaining and insightful. It reveals how technology and our shifting media landscape have forever transformed culture, politics, and the world we live in. It's a fascinating read and peek behind the curtain of how culture gets made. Having played a key role in the industry itself, Smith is an expert chronicler of the promise and the failures of digital media and tech giants. The book captures the highs and lows of the dawn of social media and the influencer world. You won't be able to put it down. It's authoritative, captivating, and a must read for anyone who cares about our information ecosystem." —Taylor Lorenz, technology columnist, Washington Post

"Ben Smith tells a true story of the internet, how for so many dreamers it ends in heartbreak. Here, in an edge-of-your seat narrative, we watch the gold-rush value of clicks, eyeballs, and unique visitors go to practically nothing for everyone else as Facebook takes it all. An honest, insightful, unsparing literature about the internet occupies a very sparse shelf, but Smith, both actor and acute observer in this tale, adds a likely classic to it." —Michael Wolff, bestselling author of Fire and Fury and Burn Rate