The Mindful Body: Thinking Our Way to Chronic Health (Hardcover)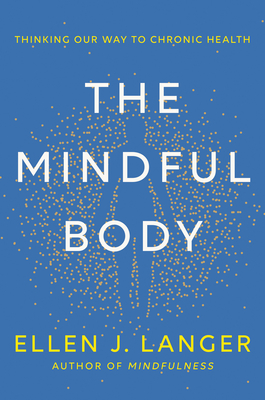 $28.00

usually available in 3-5 business days
Description
---
Learn how adjusting your thoughts can change your health—from the "mother of mindfulness" and first female tenured professor of psychology at Harvard.

"What matters more: mind or body? Filled with original research and thought-provoking insights, The Mindful Body shows that the two are not just connected but are actually one, opening us to vast potential for health and happiness."—Dan Ariely, New York Times bestselling author of Predictably Irrational

When it comes to our health, we tend to live our lives as though our ailments—our stiff knees or frayed nerves or diminished eyesight—can change only in one direction: for the worse. Award-winning social psychologist Ellen J. Langer's life's work proves the fault in this negative outlook as well as the healing power of its alternative: mindfulness—the process of active noticing where we are not bound by past experience or conventional wisdom.

In The Mindful Body, Dr. Langer unpacks her assumption-busting findings and outlines her bold new theory of mind-body unity, along the way clearly demonstrating how our thoughts and perspectives have the potential to profoundly shape our well-being. Whether it is hotel chambermaids who lost weight when they simply came to see that their work constituted exercise, or patients whose wounds healed faster in rooms with accelerated clocks, she shows how influential our thoughts are to the state of our bodies. Her work has likewise proven that discouraging health news can have negative effects. Learning you are prediabetic, for example—even if your blood sugar reading is only a fraction away from "normal"—may actually play a part in the development of the disease.

A paradigm-shifting book by one of the great psychologists of the twenty-first century, The Mindful Body returns the control over our bodies back to us and reveals that a true understanding of health begins with our minds.
About the Author
---
Ellen J. Langer, Ph.D., was the first woman to be tenured in psychology at Harvard, where she is still professor of psychology. The recipient of three Distinguished Scientist awards, the Arthur W. Staats Award for Unifying Psychology, a Guggenheim Fellowship, and the Liberty Science Genius Award, Dr. Langer is the author of twelve books, including the international bestseller Mindfulness, as well as The Power of Mindful Learning, Counterclockwise, and On Becoming an Artist. Her trailblazing experiments in social psychology have earned her inclusion in The New York Times Magazine's Year in Ideas issue. She is known worldwide as the "mother of mindfulness" and the "mother of positive psychology." She lives in Cambridge, Massachusetts.
Praise For…
---
"For decades, Ellen Langer's work has taught us the incredible power of the mind to affect our lives. In this fascinating new book, she highlights the startling role that our mind plays in fostering or undermining what is perhaps our most important asset—our health."—Carol S. Dweck, Ph.D., author of Mindset

"Ellen Langer's pioneering research put mindfulness on the map in psychology and overturned our assumptions about the mind-body connection. In this engaging book, she introduces provocative ideas about how rethinking our beliefs and attitudes can actually improve our health and happiness."—Adam Grant, #1 New York Times bestselling author of Think Again and host of the TED podcast Re:Thinking

"A revolutionary and much-needed prescription for reimagining and then creating optimum health . . . This is a must-read."—Jill Bolte Taylor, Ph.D., New York Times bestselling author of Whole Brain Living and My Stroke of Insight

"A remarkable work of science and scholarship . . . Ellen Langer's pioneering research shows that our thoughts and perceptions can rejuvenate our physical health, replenish our intellectual energy, and restore our broader sense of life's possibilities. This book offers the ultimate key to unlocking your full potential."—Daniel H. Pink, #1 New York Times bestselling author of When and The Power of Regret

"A fun and fascinating read from one of the world's foremost thinkers . . . In this practical and important book, Ellen Langer offers a host of smart tips that can lead each of us to better health and greater happiness."—Susan David, Ph.D., nationally bestselling author of Emotional Agility

"In The Mindful Body, Ellen Langer answers one of the interesting and important questions about our well-being: What matters more, mind or body? Filled with original research and thought-provoking insights, it shows that the two are not just connected but are actually one, opening us to vast potential for health and happiness."—Dan Ariely, New York Times bestselling author of Predictably Irrational

"To call a book a 'world-flipper' sounds like the worst sort of most hyperbole, but the bare facts are that The Mindful Body does this and more. Reading it, I loved seeing my worldview upended."—Tom Peters, author of The Excellence Dividend

"Lucid and encouraging . . . [a] thought-provoking exploration of the mind-body connection and its relationship to health."—Kirkus Reviews

"Social psychologist Langer (Mindfulness) provides a fascinating glimpse into her lab at Harvard, where for more than forty years she's been exploring the mind-body unity concept. . . . Readers will appreciate Langer's insightful takes on the close relationship between psychological and physical wellness and attempts to revise a rigid medical paradigm of healing. Those seeking a novel approach to recovery should check it out."—Publishers Weekly