Jurassic Jeff: Space Invader (Jurassic Jeff Book 1): (A Graphic Novel) (Jeff in the Jurassic #1) (Library Binding)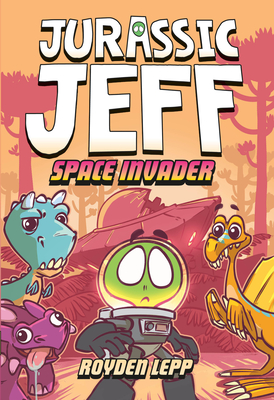 $16.99

usually available in 3-5 business days
Description
---
Dinosaurs, aliens, and world domination?! Introducing a graphic series about what it means to be a friend (and how to take over the world!)--perfect for fans of Cat Kid Comic Club, and Investigators.

Jeff has one mission and one mission only: to take over the world . . . too bad he crash lands on planet Earth a few million years too early.

Dinosaur friends Carl, Hungry, and Spike find Jeff and get roped into his mission to take over their favorite (and only) planet. But when Jeff's search for the "leader" brings big surprises, will this alien be able to complete his invasion? This action-packed adventure is filled with hijinks, talking fish, and the best thing ever: friendship!
About the Author
---
Royden Lepp is the author of the groundbreaking and award-winning series Rust. He's written and published a variety of children's books and other comics. Royden is passionate about telling stories in whatever format he can. From phones to film. From books to big screens. He is passionate about sharing his love of storytelling with young artists and young readers.
Praise For…
---
"By exploring what it means to make and keep friends while highlighting issues of bullying and forgiveness, Lepp delivers a madcap, message-forward story that doesn't take itself too seriously." —Publishers Weekly

"The funniest, most heartwarming alien invasion this side of the Jurassic Period." —Kirkus Reviews