Meditations (Everyman's Library Classics Series) (Hardcover)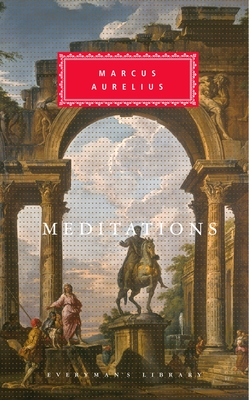 Description
---
The Roman emperor Marcus Aurelius Antoninus (a.d. 121—180) embodied in his person that deeply cherished, ideal figure of antiquity, the philosopher-king. His Meditations are not only one of the most important expressions of the Stoic philosophy of his time but also an enduringly inspiring guide to living a good and just life. Written in moments snatched from military campaigns and the rigors of politics, these ethical and spiritual reflections reveal a mind of exceptional clarity and originality, and a spirit attuned to both the particulars of human destiny and the vast patterns that underlie it.
About the Author
---
Marcus Aurelius Antoninus was born to an upper-class Roman family in A.D. 121 and was later adopted by the future emperor Antoninus Pius, whom he succeeded in 161. His reign was marked by a successful campaign against Parthia, but was overshadowed in later years by plague, an abortive revolt in the eastern provinces, and the deaths of friends and family, including his co-emperor Lucius Verus. A student of philosophy from his earliest youth, he was especially influenced by the first-century Stoic thinker Epictetus. His later reputation rests on his Meditations, written during his later years and never meant for formal publication. He died in 180, while campaigning against the barbarian tribes on Rome's northern frontier.

A. S. L. Farquharson (1871—1942) spent a lifetime on his edition of the Meditations, which is one of the outstanding twentieth-century achievements of classical scholarship. All the notes to the Farquharson translation, amplifying the twelve books of the Meditations, are included in this volume.
Praise For…
---
"The Meditations remain, unendingly moving and inspiring, the communings with itself of a thoughtful and devout soul upon the greatest of human issues. They are not, and do not claim to be, a work of original philosophy, nor yet a systematic exposition of a tradition of thought. They speak for themselves. Only by the slenderest of chances have they come down to the modern world at all . . . but the number of times they have been published . . . and above all translated into a vast variety of tongues, would have filled their author with amazement." –from the Introduction by D. A. Rees