The Prague Orgy (Vintage International) (Paperback)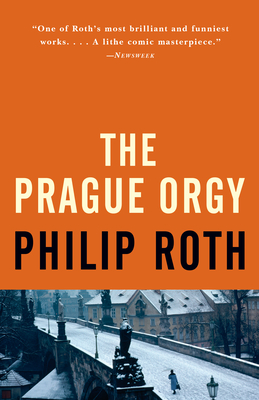 $14.00
usually available in 3-7 days
Description
---
In quest of the unpublished manuscript of a martyred Yiddish writer, the American novelist Nathan Zuckerman travels to Soviet-occupied Prague in the mid-1970s. There, in a nation straightjacketed by totalitarian Communism, he discovers a literary predicament, marked by institutionalized oppression, that is rather different from his own. He also discovers, among the oppressed writers with whom he quickly becomes embroiled in a series of bizarre and poignant adventures, an appealingly perverse kind of heroism.

The Prague Orgy, consisting of entries from protagonist Nathan Zuckerman's notebooks recording his sojourn among these outcast artists, completes the trilogy and epilogue Zuckerman bound. It provides a startling ending to Roth's intricately designed magnum opus on the unforeseen consequences of art.

This Vintage edition is the first paperback publication of the epilogue.
About the Author
---
In 1997 Philip Roth won the Pulitzer Prize for American Pastoral. In 1998 he received the National Medal of Arts at the White House and in 2002 the highest award of the American Academy of Arts and Letters, the Gold Medal in Fiction. He twice won the National Book Award and the National Book Critics Circle Award. He won the PEN/Faulkner Award three times. In 2005 The Plot Against America received the Society of American Historians' Prize for "the outstanding historical novel on an American theme for 2003–2004." Roth received PEN's two most prestigious awards: in 2006 the PEN/Nabokov Award and in 2007 the PEN/Bellow Award for achievement in American fiction. In 2011 he received the National Humanities Medal at the White House, and was later named the fourth recipient of the Man Booker International Prize. He died in 2018.


Praise For…
---
"One of Roth's most brilliant (and funniest) works...a lithe comic masterpiece." —Newsweek

"Obscenely outrageous and yet brilliantly reflective of a paranoid reality that has become universal. It is the best of Roth, a kind of coda to all his fiction so far." —Harold Bloom, The New York Times Book Review

"This fitting capstone to Roth's Zuckerman trilogy proves that no one now writing can be funnier and more passionately serious than Philip Roth." —Time