Ellington Was Not a Street (Hardcover)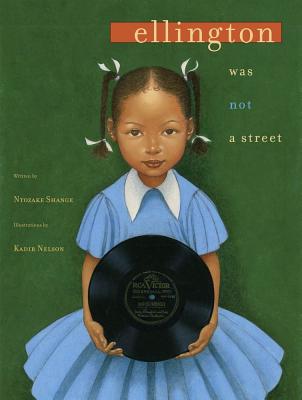 $19.99

usually available in 3-5 business days
Description
---
Featuring luminous art by Coretta Scott King Award–winning illustrator Kadir Nelson, this reflective picture book by poet Ntozake Shange looks back at the great Black thinkers and innovators who visited her father's house.

A close-knit group of Black innovators formed their own community in the early to mid-twentieth century. These men of vision lived at a time when the color of their skin dictated where they could live, what schools they could attend, and even where they could sit on a bus or in a movie theater.

Yet in the face of this tremendous adversity, these dedicated souls and others like them not only demonstrated the importance of Black culture in America, but also helped issue in a movement that changed the world. Their lives and their works inspire us to this day and serve as a guide to how we approach the challenges of tomorrow.
About the Author
---
Ntozake Shange (1948–2018) was a renowned playwright, poet, theater director, and novelist. Her body of work includes Obie Award–winning for colored girls who have considered suicide/when the rainbow is enuf, Some Sing Some Cry with Ifa Bayeza, and the posthumous Dance We Do: A Poet Explores Black Dance and I Am an Old Woman. Among her numerous accolades are the Langston Hughes Medal for Literature, a Guggenheim Foundation Fellowship, the Pushcart Prize, the Poetry Society of America's 2018 Shelley Memorial Award and three AUDELCO awards. Ms. Shange's work has been nominated for a Grammy, a Tony, and an Emmy.

Kadir Nelson is an award-winning American artist whose works have been exhibited in major national and international publications, institutions, art galleries, and museums. Nelson's work has won the Coretta Scott King Award, the Robert F. Sibert Award, two Coretta Scott King Illustrator Honor Awards, and the 2005 Society of Illustrators Gold Medal. His beloved, award-winning, and bestselling picture books include We Are the Ship: The Story of Negro League Baseball; Thunder Rose, written by Jerdine Nolen; Ellington Was Not a Street, written by Ntozake Shange; Salt in His Shoes, written by Deloris Jordan and Roslyn M. Jordan; and many more. Kadir lives in Los Angeles.