Shade: Bloom Gardener's Guide (Paperback)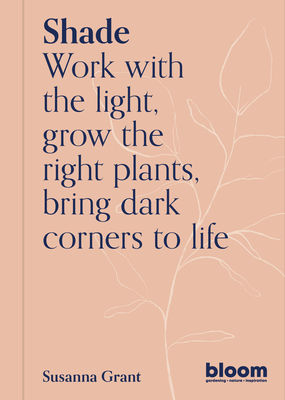 $18.00

Special Order - may be out of print
Description
---
"Shady plants deserve ambassadors like Susanna: someone who can view a dim corner as an opportunity rather than obstacle." 
–– Matt Collins, Head Gardener at the Garden Museum
Work with the light, grow plants and flowers, bring dark corners to life.
This handbook will tell you everything you need to know to make the most of shady garden spaces. Whether your whole garden, courtyard or balcony is cast in shade, or you simply have a window box on a shadowy sill, Shade will inspire you to transform the space with lush and interesting planting that looks good (and is beloved by wildlife) all year round. Rather than a gardener's "problem", an area of shade can open up a whole new world of plants to explore, from delicate flowers and interesting foliage, to handsome trees and vibrant bulbs.Shade includes top tips on tackling all sorts of shady areas, a directory of plants to dip into and pro advice on achieving year-round colour and structure. It's time to bring those dark corners to life! This title is from the Bloom Gardener's Guide series, complete and comprehensive gardening handbooks. Bloom is an award-winning independent print magazine for gardeners, plant admirers, nature lovers and outdoor adventurers, and winner of the Garden Publication of the Year at the Garden Media Awards 2021. Other titles in this series include Cut Flowers and Pots.  
 
About the Author
---
Susanna Grant is a writer, gardener and sound artist. She is co-founder of Linda, a shade-plant specialist and planting design consultancy in east London. Described by Stella Magazine as "having impeccable taste and a fundamental understanding of low-maintenance gardening", she is a life-long gardener that is passionate about helping green-up neglected urban and shady spaces. Susanna is trained in garden design and is a volunteer gardener and trustee at the historic Boundary Gardens of Arnold Circus in Shoreditch. Her work includes From Gardens Where We Feel Secure (Rough Trade Books), a pamphlet exploring the importance of community gardens, gardening as an act of resistance and the beauty of weeds. 
Praise For…
---
"The ultimate planting guide for any urban garden: Susanna's knowledge is extensive and her taste impeccable. I dream of a London full of Linda planting. Until then, this book will help. What a gorgeous, inspiring guide – I shall be relying on it heavily." —Alice Vincent, author and Sunday Telegraph gardening columnist

"Susanna's take on shade planting is both practical and accessible, yet encourages experimentation, which is the joy of low-light gardening. Shady plants deserve ambassadors like Susanna: someone who can view a dim corner as an opportunity rather than obstacle."—Matt Collins, Head Gardener at the Garden Museum