The Invisible Emperor: Napoleon on Elba from Exile to Escape (Paperback)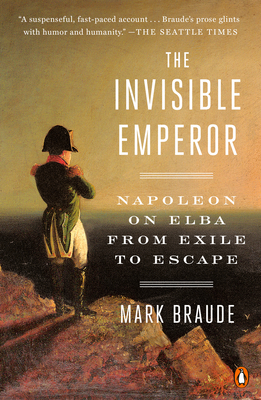 $18.00

Special Order - may be out of print
Description
---
A gripping narrative history of Napoleon Bonaparte's ten-month exile on the Mediterranean island of Elba

In the spring of 1814, Napoleon Bonaparte was defeated. Having overseen an empire spanning half the European continent and governed the lives of some eighty million people, he suddenly found himself exiled to Elba, less than a hundred square miles of territory. This would have been the end of him, if Europe's rulers had had their way. But soon enough Napoleon imposed his preternatural charisma and historic ambition on both his captors and the very island itself, plotting his return to France and to power. After ten months of exile, he escaped Elba with just of over a thousand supporters in tow, marched to Paris, and retook the Tuileries Palace--all without firing a shot. Not long after, tens of thousands of people would die fighting for and against him at Waterloo.

Braude dramatizes this strange exile and improbable escape in granular detail and with novelistic relish, offering sharp new insights into a largely overlooked moment. He details a terrific cast of secondary characters, including Napoleon's tragically-noble official British minder on Elba, Neil Campbell, forever disgraced for having let "Boney" slip away; and his young second wife, Marie Louise who was twenty-two to Napoleon's forty-four, at the time of his abdication. What emerges is a surprising new perspective on one of history's most consequential figures, which both subverts and celebrates his legendary persona.
About the Author
---
Mark Braude has been a postdoctoral research fellow and lecturer at Stanford University and was named a 2017 Public Scholar by the National Endowment for the Humanities. His writing has appeared in The Globe and Mail, The Los Angeles Times, and The New Republic. His first book, Making Monte Carlo: A History of Speculation and Spectacle was published in 2016. Mark lives in Vancouver with his wife.
Praise For…
---
"[A] born storyteller…Braude brings this exceptional tale to life with panache and incisive detail." —H-Diplo

"Mark Braude's The Invisible Emperor paints a charming picture of [Napoleon's] brief first exile, and points to the stray indications that Napoleon remained on the lookout for a chance to escape and make a comeback." —New York Review of Books

"A particularly authentic and intriguing account of this little-known period in Napoleon's career. . . . Throughout his book Braude includes important historic details in an engaging prose that alternates between the happenings on Elba and the political situation in France and on the continent. . . . Braude is a fine historian and a talented writer. His portrayal of this dramatic historical moment helps us better to understand Napoleon's personality as well as the dysfunctional European politics at the time." —The French Review

"A history of Napoleon's short first exile, rendered in short, punchy chapters. . . . [H]e was there only 10 months and left with a flotilla of armed vessels. It's great fun reading about the Allies' attempts to predict his destination, and those anecdotes reinforce our knowledge of the emperor's great talents."—Kirkus

"The Invisible Emperor details the deceptively calm but ultimately catastrophic interlude in the 25-year military career of one of history's most famous soldiers, Napoleon. . . . Intriguing."—BookPage

"An intriguing look at a still controversial public figure during an often overlooked historical period. For readers of French history, there is little about the Napoleonic legend that isn't fascinating, and as Braude proves, the time spent on Elba is no exception."  –Library Journal, starred review

 "A suspenseful, fast-paced account. . . . Braude's prose glints with humor and humanity. We follow the fortunes of the bewildered citizens of Elba, as their beautiful but poverty-ridden island becomes ground zero for international intrigue. We get poignant glimpses of a time when life was shorter and simpler." —Seattle Times
 
"[Braude's] view of a man still caught up in his own self-image—one which, it must be admitted, was shared by many others—is intriguing."—BookPage
 
"Braude renders Napoleon Bonaparte's 10-month exile on the tiny Mediterranean island of Elba and his brief return to power in 1815 in short, punchy chapters that read like an exciting novel, or an episode of Prison Break. [Braude] has a talent for looking at history from a slant." —The National Book Review
 
"Magnificent history." –Australian Broadcasting Corporation, This Weekend's Recommended Reading
 
"[The Invisible Emperor] reads very much like a novel, combining romance, drama and the allure of a prison escape. . . . This tale of the emperor's plotting during his first island exile is recommended." —Historical Novel Society

"A lively and insightful account. . . . Braude has a wonderful eye for the striking image or scene, and establishes the peculiar world of Napoleon's Elba through vignettes by turns humorous and poignant." –Times Literary Supplement
 
"The improbable and riveting story of one of history's most celebrated jailbreaks." –Quarterly Journal of Military History

"This is the story of how a man who had conquered a continent was transformed by an island. Defeated and suicidal, Napoleon departed France in disguise and was exiled to Elba with one ship, a small army, and his mother. He reformed Elban society, read voraciously, and cheated at cards—all while plotting his escape. The Invisible Emperor reveals the lesser-known Napoleon backstage from history and preparing his final act. Braude's thorough research and eye for telling detail breathe life into an incredible story of determination."
—Kevin Birmingham, author of The Most Dangerous Book
 
"Of the many chapters in the great 'Napoleonic novel,' few are more loaded with possibility and peril than Napoleon Bonaparte's exile to, and escape from Elba in 1814. With vigorous prose and rich attention to detail, Mark Braude fashions a mesmerizing narrative about a former emperor caught between the fate Allied powers had assigned him and the destiny to which he surely was bound. The Invisible Emperor uncovers profound human drama in the story of a political creature who, defying reason and disregarding collateral damage, needed a historical stage to prove that he was still alive."
—Stéphane Gerson, Professor of French and French Studies NYU, and author of Disaster Falls: A Family Story
 
"In their haste to reach Waterloo and Saint Helena, Napoleon's historians habitually pass speedily over the 300 days that the ex-Emperor spent in 1814-15 as ruler of the principality of Elba. Mark Braude has had the ingenious idea of slowing down history and indeed historians and lingering thoughtfully over this neglected island episode. His careful and compelling microscopic reconstruction of this moment in Napoleon's extraordinary odyssey is a historical tour de force." 
—Colin Jones, author of Paris: The Biography of a City

"The story of Napoleon's first exile, starting with his military defeat and failed suicide attempt, and ending with his return to France and to power, is one of the most dramatic in all of history. Mark Braude tells this story with the eye of a novelist and the sure hand of a seasoned historian. The Invisible Emperor is a brilliantly vivid account of the tiny realm of Elba that the exiled monarch ruled for ten months, his captors, his entourage, and, above all, of the extraordinary figure of Napoleon himself." —David A. Bell, Lapidus Professor, Princeton University, author of Napoleon: A Concise Biography
 
"Mark Braude navigates complex motives and wavering loyalties to tell the intriguing story of the fall and rise—and fall again—of Napoleon. He offers an intimate portrait of the dethroned emperor, both his humiliation and his resilience, as the grand panorama of history suddenly comes to focus on a few rocky acres of island. A wonderfully readable evocation of a place and time—and of one of history's most eternally compelling figures." —Ross King, bestselling author of Brunelleschi's Dome and Michelangelo and the Pope's Ceiling
 
"One of the great mysteries of European history is how the fallen emperor Napoleon managed to escape his confinement on the Mediterranean island of Elba under the supposedly watchful eye of the Royal Navy. Mark Braude unravels this fascinating episode with all the skills of a historian and all the talent of a natural storyteller. Anyone interested in the amazing roller-coaster of Napoleon's road to Waterloo will find much enlightenment here."—David Bellos, author of The Novel of the Century: The Extraordinary Adventure of Les Misérables