The Knee Injury Bible: Everything You Need to Know about Knee Injuries, How to Treat Them, and How They Affect Your Life (Paperback)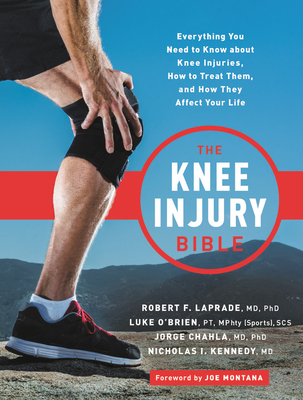 Description
---
From prominent experts in orthopedics and sports medicine, a comprehensive guide for anyone with knee injury or chronic knee pain: how injuries occur, how to treat problems, and how to return to the life and sports you love

Knee pain and knee injury happen to people at any age and across all walks of life. And they are very common: more than 1 million people underwent arthroscopic knee surgery last year. It can be confusing to navigate the many different treatment options, and surgery and physical therapy are taxing processes on many levels. In
The Knee Injury Bible
, some of the country's foremost experts on orthopedics and sports medicine combine their expertise to share a definitive resource for patients. In clear, readily understandable language, the authors cover:
types of injuries and pain, and how they happen
which tests are necessary and which are not
what to ask at doctor visits
what to expect when undergoing surgery
basic physical therapy exercises
healthy eating during the recovery period
how to set expectations and return to the activities and sports you love
Chapters also include inspiring stories from other patients and prominent athletes to show readers that they are not alone -- and they can recover and live normally again.
About the Author
---
Robert F. LaPrade, MD,
is a sports medicine certified orthopedic surgeon who practices at the Steadman Clinic in Vail, Colorado.
Nicholas Kennedy, MD, is a research assistant and an orthopedic resident at the prestigious Mayo Clinic in Rochester, Minnesota. He also underwent two surgeries for a complex knee injury and provides insight as someone who has been both patient and provider.
Jorge Chahla, MD, PhD,
is an orthopedic surgeon who joined the Steadman Philippon Research Institute as a Regenerative Sports Medicine Fellow.
Luke O'Brien, PT, MPhty, SCS2,
is a physical therapist at the world-renowned Howard Head PT Clinic. He has given talks all over the world for his work involving recovery from sports injuries.