Sunrise, Sunset: 52 Weeks of Awe and Gratitude (Paperback)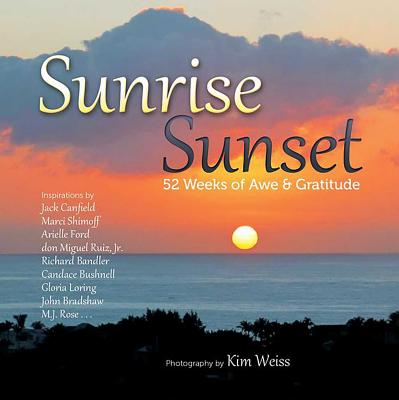 $10.95

Special Order - may be out of print
Description
---
The same vista. Never the same sun.

Much like life, the stage changes even when our vantage point doesn't. And so it is with the rising and setting sun, no two are ever the same.

Every picture tells another color, shape and shadow story . . . whatever unfolds each day reveals the diversity and beauty of life. Birds, insects, reptiles, trees, sandy shores—all thrive under the majesty of the sun.

Weiss offers all of this as a show of gratitude, a tribute to the awe of each new day. Sunrise Sunset is replete with glorious photographs of different days and different suns captured from the very same vantage point, the very same terrace.

Complementing her photographs are meditations, passages, poetry, reflections and contemplations from some of the bestknown and loved inspirational leaders of our time: Jack Canfield, Marci Shimoff, M.J. Rose, Arielle Ford, Don Miguel Ruiz, Jr., Richard Bandler, Lisa McCourt, Betsey Chasse and many more.

This is the ultimate gift book for saying 'thank you', sharing a blessing or offering an oasis for spiritual awakening. From sunrise to sunset, this will be a perennial bestseller.
About the Author
---
Kim Weiss has been a publicist in the book industry for many years and coaches other writers aspiring to be bestselling authors. Her love of nature and the arts began when she was just a little girl and bloomed into the writer and photographer she is today. From her 14th floor terrace she witnesses the beauty of nature and captures it through the lens of her camera. As a storyteller, Kim has contributed to the hugely popular Chicken Soup for the Soul series and The Ultimate Bird Lover with "America's Vet" Marty Becker. You can also find Kim's stories and photos in Arielle Ford's acclaimed book Hot Chocolate for the Mystical Soul. When she's not working with authors, Kim is studying opera, playing guitar, being entertained by her birds and cats, or taking photos from her terrace at sunrise and sunset.
Praise For…
---
"Sunrise, Sunset: 52 Weeks of Awe & Gratitude is a little gem of a book with gorgeous photos by Kim Weiss and uplifting reflections by teachers such as John Bradshaw, Joan Halifax, Jean Houston, Joan Borysenko, Jack Canfield and many others." —Luisa Kolker, psychotherapist and shamanic teacher

"Almost everyone enjoys the beauty of a sunrise and sunset..... an amazing new book is coming soon in time for a perfect holiday gift (and I know my mother will enjoy it) with quotes of inspiration and more. Thanks to author Kim Weiss—she has captured 52 Weeks of Awe(some) photos and gratitude for us!" —Sue Scheff, author

"As beautiful as it is moving and as moving as it is wondrous. Weiss reminds us all of the magic of things that happen everyday and that all too often we take for granted." —M.J.Rose, NY Times bestselling author

"Happy dance! My friend Kim Weiss has a new book coming out that I'm part of.... Excited!" —Heather Ash Amara, author

"I am excited to be featured in this book along with Don Miguel Ruiz and quite a few other notable authors... I invite you to check out the beautiful photography of Kim Weiss." —Jacob Nordby, author

"If you enjoy the Sunrise and the Sunset...and love to practice Gratitude, you'll want to check out my great friend, Kim Weiss, and her new book with inspirational writings from a number of well-known people including Jack Canfield, Marcy Shimoff, Gloria Loring, Don Miguel Ruiz, Jr. and many more." —Bob Burg, bestselling author and speaker

"If you love sunsets and sunrises, you'll love this book—filled with beautiful images and incredible inspiration..." —John Kremer. Publisher and book marketing expert

"Kim Weiss captures all the sweet wonder of sun-scattered skies in her gorgeous book of original photographs. The heartfelt musings that accompany each image add a layer of depth to this stunning debut. I'm so honored to be a part of it." —Lisa McCourt, bestselling author

"Kim Weiss has one of the most beautiful views in town from the terrace of her high-rise condominium that overlooks the city, the intracoastal waterway, and the Atlantic Ocean and she has been capturing sunrises and sunsets with her camera and …somehow, by the grace of God, I was thrown into the mix and have the great honor of being included in the project." —Melissa Applegate, author

"Kim Weiss is one of those multi-talented people who inspires you with her many wonderful projects and delightful undertakings in the world. Her new book Sunrise Sunset features her most beautiful photographs which are sure to warm your heart and fill you with gratitude for the simple things in life. Plus, her list of friends who provided inspirational quotes is pretty impressive too!"—Joanne McCall, The Media Polisher

"Love it Kim! You inspire me so much." —Spencer Lord, author

"People often ask me; Frank, why do you work from an oceanfront Treehouse? I have many answers, but one primary reason is no two oceanscapes are ever the same. Kim Weiss has captured this same essence in her book. It is replete with glorious photographs of different days and different suns captured from the very same vantage point, the very same terrace." —Frank McKinney, bestselling author and rock star realtor

"Thank you Kim, for inviting me to contribute to your beautiful book. We can all benefit from more beauty brought before our eyes." —Gloria Loring, author, actress & entertainer

"The beautiful and inspirational Kim Weiss has a new book out. You can marvel at it right here." —Judymay Murphy, author