Tank: 100 Years of the World's Most Important Armored Military Vehicle (Hardcover)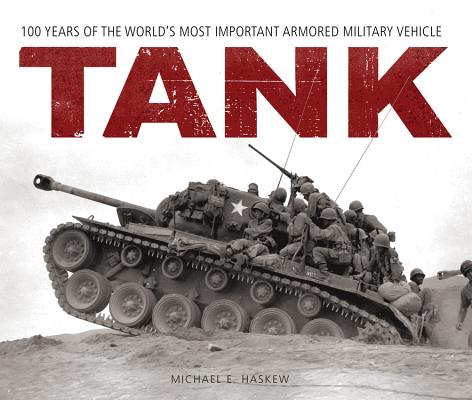 $40.00
Special Order - may be out of print
Description
---
Explore the 100-year evolution of the tank and its role on the battlefield, from World War I to today's armored fighting vehicles.
From the Greek phalanx to Roman siege engines, plans by Leonardo da Vinci, and the wondrous imagination of H. G. Wells, the idea of the armored fighting vehicle--the tank--has crossed centuries and given rise to the technologically advanced land warfare systems that populate the armies of countries large and small today.
First appearing during World War I as unwieldy boxes mounted on tractor chassis and prone to mechanical failure, tank designs evolved into sleek weapons with the now-classic characteristics of speed, mobility, and firepower.
During the 1920s, American Maj. Gen. Adna Chaffee Jr., correctly predicted that mechanized armies would win the land battles of the future. Young US Army officers such as Dwight D. Eisenhower and George Patton risked their careers to champion the development of armored divisions.
Modern tanks perform in both offensive and defensive roles, capable of exploiting breaches in enemy defenses and rapidly slashing into rear areas, disrupting communications, supply, and command and control.
In Tank: 100 Years of the World's Most Important Armored Military Vehicle, noted military historian Michael E. Haskew is your guide to the complete 100-year history of these unparalleled machines. He starts with the development of early tanks, moves on to the uses of tanks in World War I, World War II, and the Cold War, and covers the modern armored fighting vehicles in use during the Gulf Wars and in conflicts right up to today.
About the Author
---
Michael E. Haskew has been writing and researching military history subjects for over twenty-five years. He is the editor of WWII History magazine and The World War II Desk Reference with the Eisenhower Center for American Studies. He is the author of West Point 1915: Eisenhower, Bradley, and the Class the Stars Fell On; Appomattox: The Last Days of Robert E. Lee's Army of Northern Virginia; and Tank: 100 Years of the World's Most Important Armored Military Vehicle, among numerous other publications. He lives in Chattanooga, Tennessee.
Praise For…
---
"... a thorough look at the tank and it history, including development, technical details, and battlefield performance throughout the wars of the 20th and 21st centuries. The author supplies excellent detail on the major tank battles of the two world wars and subsequent conflicts."
- Military Heritage
—
-