Nordic Knits: 44 Beautiful Patterns to Knit and Keep You Cozy (Paperback)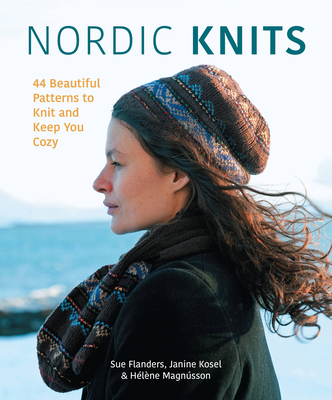 $24.99

usually available in 3-5 business days
Description
---
Bring the traditions of simple, design-led Nordic style to your knitting repertoire.
Nordic Knits
is the complete collection of Nordic-inspired patterns that will bring the perfectly balanced, "less is more" Scandi sensibility to your knitting projects.This carefully researched book presents
44 knitted patterns
inspired by this globally sought-after knitting tradition, including stylish,
traditional projects from Sweden, Norway, and Iceland
.
From beautifully patterned
sweaters
,
shawls
,
mittens
, and
socks
to a red
nisse
"elf"
hat
, Dala horse
garland
, a Viking-ship
pillow
, and
tote bags
, each pattern is inspired by a knitted item or artwork from a historical collection or museum.
To help you get the results you want,
each project is partnered with:
Complete illustrated patterns
Four-color photography
Schematics and diagrams
Alternatives for yarns and needle weights and sizes
A photo and brief history of the knitted artifact that inspired the pattern
The patterns range
from simple to more complicated
, making this a great book to grow your craft at the same time as creating beautiful and giftable knits. Forever in style and always cool, the Nordic-style knits are the perfect gift for friends and family—or just a great self-gift anytime!
Knit using traditional techniques as you work your way through these contemporary patterns based on historical practice.
About the Author
---
Sue Flanders has been designing knitwear for more than twenty years. Her patterns have appeared in many publications, including Interweave Knits, Knitter's magazine, Cast-On, and in two books by Melanie Falick, Knitting America and Kids Knitting. She is co-author of Norwegian Handknits: Heirloom Designs from Vesterheim Museum (Voyageur Press, 2009) and Swedish Handknits: A Collection of Heirloom Designs (Voyageur Press, 2012).
Janine Kosel is an accomplished knitter who has studied under greats like Alice Starmore, Meg Swansen, and Candice Eisner Strict. Janine works at Three Kitten's Yarn Shop in St. Paul, Minnesota, and teaches knitting and tatting workshops at many Twin Cities–area knitting and needlework shops.