Fault Lines (Hardcover)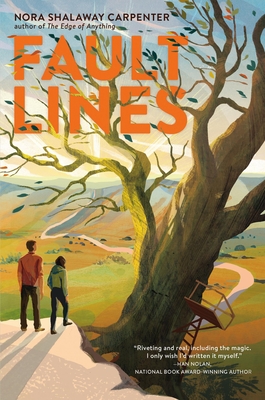 Description
---
Riveting, powerful, and a little bit magical, Fault Lines offers readers a slow-burn romance alongside an unflinching examination of socio-economics, gender expectations, and environmental ethics.

Ever since her aunt died four months ago, seventeen-year-old Vivian (Viv) Spry is aching to figure out where she belongs. Her father has become emotionally distant and even her best friend has found a new sense of identity in her theater group. Unfortunately, nobody in her rural West Virginia town has time for an assertive, angry girl, especially a girl dubbed "Ice Queen" for refusing to sleep with her popular boyfriend. On top of everything, she discovers a strange ability to sense energy that really freaks her out. The only place Viv feels like it's safe to be her true self is the tree stand where her aunt taught her to hunt. It's the one place she still feels connected to the person who knew her best. So when fracking destroys the stand and almost kills her, Viv vows to find a way to take the gas company down.

When Dex Mathews comes to town—a new kid whose mom lands a job laying pipeline—his and Viv's worlds collide and a friendship (and maybe more?) slowly blossoms. But Viv's plan to sabotage the pipeline company could result in Dex's mom losing her job, putting them on the streets. Now Viv and Dex have to decide what's worth fighting for—their families, their principles, or each other.
About the Author
---
Nora Shalaway Carpenter's young adult novels and anthologies have been named "Best of the Year" by NPR, Kirkus Reviews, Bank Street Books, and A Mighty Girl, and have won accolades including the Junior Library Guild Gold Standard Selection, the Whippoorwill Award for authentic rural fiction, and the Nautilus Award championing "better books for a better world." She holds an MFA in Writing from Vermont College of Fine Arts and serves as faculty for the Highlights Foundation's Whole Novel Workshop and Intro to Short Fiction class.
Praise For…
---
"I read
Fault Lines
in one sitting; it's just that good. Riveting and real, including the magic. I only wish I'd written it myself."—
Han Nolan, National Book Award winning author of Dancing on the Edge
"A powerful and timely story that deftly navigates the complex interplay between poverty and environmentalism. I fell in love with the land as much as I did the characters."—
Abigail Hing Wen, New York Times bestselling author of the Loveboat, Taipei series
"A love letter to the natural world, this story shows how dismantling beliefs calls for fight and fury, but also empathy and heart. Tough yet intuitive Viv shines as a complicated protagonist, and her connection with earnest Dex brims with hope—until they discover the devastating ways they are at odds. Honest in its exploration of the deep-rooted challenges of one rural community,
Fault Lines
is a masterpiece as breathtaking as our West Virginian forests. Empowering and sublime."—
Anuradha D. Rajurkar, author of American Betiya, a 2022 YALSA Best Fiction for Young Adults selection
"Fault Lines is a lyrically rendered and stirring story of coming of age with the natural world and falling in love. Carpenter writes the people and region of Appalachia with unfailing grace and dignity. Her love for both makes every sentence gleam." 
—
Jeff Zentner, award-winning author of IN THE WILD LIGHT and THE SERPENT KING
"Nora Shalaway Carpenter writes about Appalachia with clear eyes and a compassionate heart. . . . This timely story is certain to grab readers who will–like me–eagerly flip the pages to learn how these engaging and determined characters will bridge the metaphorical sinkhole that divides them."—
Laura Sibson, author of EDDIE IN BETWEEN and THE ART OF BREAKING THINGS
"With an authentic lens and compelling prose,
Fault Lines
takes readers deep into rural America, where Carpenter navigates divisive topics with grace. Readers will appreciate the precise pacing, relatable characters, and abundance of empathy that
Fault Lines
has to offer. I absolutely loved this heartfelt novel."—
Kyrie McCauley, award-winning author of If These Wings Could Fly and We Can Be Heroes
"Viv's moral compass cracks her heart wide open. This immersive story of love, land, and identity will shake the ground and make you experience the world in a whole new way. In a time of social and political polarity,
Fault Lines
urges us to look deeply at what we're willing to put on the line for one another. Absolutely riveting. A social- and environmentally minded book for our present and future."—
Gloria Muñoz, award-winning author of Danzirly
"With clean prose and clear purpose,
Fault Lines
explores the interlocking economic, social, and environmental issues confronting, not just teens, but all of us trying to navigate the modern world. Carpenter respects both the issues and her readers too much to offer pat answers. Instead, through the compelling match up of Viv and Dex we're drawn into a complexity that can only be resolved with deep empathy and the magic of discovering the threads that bind us to both the Earth and to each other. Bold, brave, and surprisingly emotional, you'll root for not only Viv and Dex, but for the trees and the forest itself."—
Maia Toll, bestselling author of the Wild Wisdom series
"Confronting head-on the environmental ravages of fracking with a love story takes hutzpah of a kind I can only admire. I also believe it's a story can make a difference to the complex issue of environment versus jobs to which this novel gives such nuanced attention. Make no mistake this is no ordinary love story but one told with rare and remarkable restraint and subtlety. I was happily reminded throughout of the masterful storytelling found in an earlier generation of Appalachian authors like George Ella Lyon and Cynthia Rylant. Add that the story is a page-turner with carefully drawn, compellingly believable characters makes me more than eager to see what this gifted young novelist will bring us next. Highly recommended."—
Marc Harshman, Poet Laureate of West Virginia
"An engaging novel that will keep readers thinking."—
Kirkus Reviews
"Drawing from personal experience living in West Virginia, Carpenter cleverly braids the emotional, intellectual, and practical issues around pipelines and fracking… At the same time, the novel traces Dex and Viv's tender romance as the pair find comfort in each other despite their very different personalities and circumstances. Hand to fans of activism fiction."—
Booklist
"Some stories are like foxfire—unexpected magic, rooted in place, that lights the way. 
Fault Lines
 is one of those stories."—
Cinda Williams Chima, NEW YORK TIMES bestselling author of the Heir Chronicles