Never-Contented Things (Hardcover)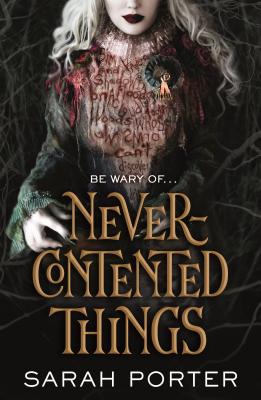 $17.99

Backordered - OK to 'add to cart' and we'll let you know when your copy is here
Description
---
"Sarah Porter is a genius. Her language is lush and dangerous, and her books burn with the beautiful, ferocious intensity of a bonfire in the darkest night."—Brittany Cavallaro, New York Times bestselling author of A Study in Charlotte
From critically-acclaimed author Sarah Porter comes Never-Contented Things: a standalone surreal young adult fantasy of teenagers ensorcelled into a wicked bargain with otherworldly beings…
Every moment of the night—
Forever changing places—
And they put out the star-light
With the breath from their pale faces…
—Edgar Allan Poe, "Fairy-Land"
Bound by haunting tragedies, Ksenia Adderley and Joshua Korensky have shared a home as foster siblings since they were children. Despite their opposite personalities—Ksenia is prickly, mistrustful, Josh, flamboyant and outgoing—they are fiercely protective of one another. As teens, they've grown even closer. Some say unnaturally so.
With Ksenia's eighteenth birthday approaching, their guardians expect her to move out. They want to free Josh of his obsession with the foster-sister whom they regard as a strange, unhealthy influence. But they don't understand the depths of Josh's feelings for Ksenia and how desperate he is to ensure they stay together—forever.
The one called Prince understands all too well. Attracted by the intensity of Josh's desires and Ksenia's fears, he can grant them a home among his kind: beautiful creatures not of this earth. All they have to do is surrender their very humanity and succumb to the cruel whims of Prince and his fae courtiers…
"A creepy new world like none I've seen before. Eerie, edgy and filled with mystery, Porter takes us to the depths of the magical and psychological."—Danielle Paige, New York Times bestselling author of Dorothy Must Die
About the Author
---
SARAH PORTER is the author of the Lost Voices Trilogy (Lost Voices, Waking Storms, The Twice Lost) in addition to Vassa in the Night—all for the teen audience. For over ten years she has taught creative writing workshops in New York City public schools to students in grades K-10. Porter also works as a VJ, both solo and with the art collective Fort/Da; she has played venues including Roseland, Galapagos, Tonic, Joe's Pub, The Hammerstein Ballroom, The Nokia Theater, and the Burning Man festival. She lives in Brooklyn with her husband and two cats.
Praise For…
---
"Tragic and engrossing, filled with nightmarish dreamscapes and menacing villains, it also treads the tender terrain of family, and the strange and sometimes dysfunctional ties between siblings. Highly recommended!" —Kendare Blake, New York Times bestselling author of Three Dark Crowns on When I Cast Your Shadow
"You'll never think of your nightmares the same way again. Darkly seductive. Sarah Porter's writing glitters and her storytelling stuns in this twisted tale of siblings, love, and death." —Stephanie Garber, New York Times bestselling author of Caraval on When I Cast Your Shadow

"Gorgeous sentence-level writing and vibrant horror elevate this character-driven story about resilience, identity, and learning to save yourself." —School Library Journal
"Sarah Porter is a genius. Her language is lush and dangerous, and her books burn with the beautiful, ferocious intensity of a bonfire in the darkest night. Read Never-Contented Things with the lights on. Then read it again."—Brittany Cavallaro, New York Times bestselling author of A Study in Charlotte
"Sarah Porter's Never-Contented Things creates a creepy new world like none I've seen before. Eerie, edgy and filled with mystery, Porter takes us to the depths of the magical and psychological."—Danielle Paige, New York Times bestselling author of Dorothy Must Die
"In Porter's hands, even undead, skinless slivers of shadow burst to life… A wildly innovative, whip-smart, and utterly spellbinding testament to family, memory, and love—and the messes and miracles of each—poised to possess legions of readers." —Booklist, starred review, on When I Cast Your Shadow
"Porter offers a poignant consideration of how far we will go for the people we love… An excellent selection for libraries serving teens." —School Library Journal, starred review on When I Cast Your Shadow
"….[D]elivers a deliciously disturbing and engaging portrait of the complexities of familial love and takes readers to the boundaries between innocence and corruption, self-preservation and sacrifice, the dreaming and the dead…. A haunting tale of possession that explores the ghostly landscape of dreams and nightmares—but more importantly, the particular dynamics among siblings, both oppressive and redemptive." —Kirkus Reviews

"This book is relentlessly dark and horrifying, compelling the reader to seek out the redemption that these characters so desperately need. Ruby is so utterly bound by grief over Dash's death, she seems unable to avoid becoming his victim. Everett, however, personifies the loving sibling bond that allows the cathartic conclusion of the novel to occur. …This book is recommended for teen fans of supernatural fiction ready for the dark and disturbing material."—VOYA