The River of Doubt: Theodore Roosevelt's Darkest Journey (Paperback)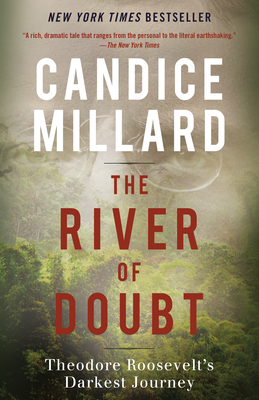 $17.00
usually available in 5-10 days
Staff Reviews
---
The River of Doubt is the totally engrossing true adventure of one of our greatest presidents. According to a C-Span poll of historians he is ranked #4 as the greatest of presidents. It is not a mistake that he appears on Mount Rushmore. River of Doubt is about what he did after losing a bid for a third term as a cure for the blues.
During a 1914 trip to South America he decides to accept an invitation to explore an uncharted tributary of the Amazon. They are poorly prepared and what follows is a fascinating and extremely well-written description of both the beauty and the dangers of the rain forest and how Roosevelt barely survives. River of Doubt wonderfully illuminates one the most interesting and least known episodes in his life.
Another fact worth pondering is that Theodore Roosevelt died in 1919 at the age of 60 and was considered a likely choice for the Republican nomination for president in 1920; thus, this ill-fated adventure, which undoubtedly contributed to his poor health and early death, is likely to have altered American history.
~Matt
— From
Matt
Description
---
At once an incredible adventure narrative and a penetrating biographical portrait, The River of Doubt is the true story of Theodore Roosevelt's harrowing exploration of one of the most dangerous rivers on earth.

The River of Doubt—it is a black, uncharted tributary of the Amazon that snakes through one of the most treacherous jungles in the world. Indians armed with poison-tipped arrows haunt its shadows; piranhas glide through its waters; boulder-strewn rapids turn the river into a roiling cauldron.

After his humiliating election defeat in 1912, Roosevelt set his sights on the most punishing physical challenge he could find, the first descent of an unmapped, rapids-choked tributary of the Amazon. Together with his son Kermit and Brazil's most famous explorer, Cândido Mariano da Silva Rondon, Roosevelt accomplished a feat so great that many at the time refused to believe it. In the process, he changed the map of the western hemisphere forever.

Along the way, Roosevelt and his men faced an unbelievable series of hardships, losing their canoes and supplies to punishing whitewater rapids, and enduring starvation, Indian attack, disease, drowning, and a murder within their own ranks. Three men died, and Roosevelt was brought to the brink of suicide. The River of Doubt brings alive these extraordinary events in a powerful nonfiction narrative thriller that happens to feature one of the most famous Americans who ever lived.

From the soaring beauty of the Amazon rain forest to the darkest night of Theodore Roosevelt's life, here is Candice Millard's dazzling debut.
About the Author
---
CANDICE MILLARD is a former writer and editor at National Geographic magazine and New York Times bestselling author. She lives in Kansas City.
Praise For…
---
"A rich, dramatic tale that ranges from the personal to the literally earth-shaking." —Janet Maslin, The New York Times

"[A] fine account . . . There are far too many books in which a travel writer follows in the footsteps of his or her hero—and there are far too few books like this, in which an author who has spent time and energy ferreting out material from archival sources weaves it into a gripping tale." —The Washington Post


"[N]o frills, high-adventure writing . . . Millard's sober account is as claustrophobic as a walk through the densest jungle, and as full of vigor as Roosevelt himself."
—Entertainment Weekly