Recovering Native American Writings in the Boarding School Press (Hardcover)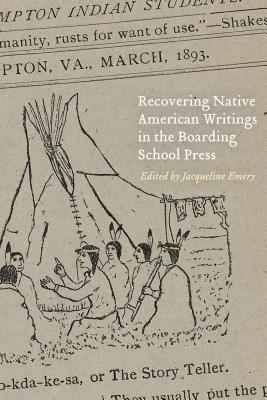 $55.00

usually available in 3-7 days
Description
---
2018 Outstanding Academic Title, selected by Choice 

Recovering Native American Writings in the Boarding School Press is the first comprehensive collection of writings by students and well-known Native American authors who published in boarding school newspapers during the late nineteenth and early twentieth centuries. Students used their acquired literacy in English along with more concrete tools that the boarding schools made available, such as printing technology, to create identities for themselves as editors and writers. In these roles they sought to challenge Native American stereotypes and share issues of importance to their communities. 

Writings by Gertrude Bonnin (Zitkala-Ša), Charles Eastman, and Luther Standing Bear are paired with the works of lesser-known writers to reveal parallels and points of contrast between students and generations. Drawing works primarily from the Carlisle Indian Industrial School (Pennsylvania), the Hampton Institute (Virginia), and the Seneca Indian School (Oklahoma), Jacqueline Emery illustrates how the boarding school presses were used for numerous and competing purposes. While some student writings appear to reflect the assimilationist agenda, others provide more critical perspectives on the schools' agendas and the dominant culture. This collection of Native-authored letters, editorials, essays, short fiction, and retold tales published in boarding school newspapers illuminates the boarding school legacy and how it has shaped, and continues to shape, Native American literary production. 
 
About the Author
---
Jacqueline Emery is an associate professor of English at State University of New York at Old Westbury. 
 
Praise For…
---
"The texts . . . go a long way toward showing the degree to which some embraced assimilationist rhetoric and others saw literacy and publishing as means to adapting, surviving, resisting, "talking back," and ultimately claiming agency over their own futures in a society that, to differing degrees, saw their existence as a problem to be solved."—M. F. McClure, Choice

"Emery's book is timely and important, as it is critical that both Native Americans and allies push for education about this period in history, especially at such a crucial time in our development as a country. Now, more than ever, with the call for a "national identity," we should be looking to our past and what the building of that national identity entails. This means that we should be educating our citizens on how our past governments have attempted to shape the "American." Emery's book provides us with a rich resource of stories gathered from the voices of the students who were part of Carlisle founder Richard Henry Pratt's vision."—Lydia Presley, Great Plains Quarterly

"This edited volume features work of thirty-five Native writers and editors and brings visibility to the boarding school newspapers, which hopefully will spur efforts at preserving and using these works as an untapped resource that give voice to Native Americans and expand the history of Native American literature."—Jerry W. Carlson, Nebraska History

"By carefully doing the time-consuming work of collecting the writings for this book—writings by Indian people themselves that are scattered in difficult-to-access newspaper archives—Emery has provided a valuable service. She has created a resource that can help us restore and recover at least some of our sight, bringing more detail, nuance, complexity, and humanity into view, if only we can take the time to look closely enough."—Steve Amerman, H-AmIndian

"The absorbing nature of these writings and reflections, combined with the insights they provide into an often-ignored chapter in U.S. history, illustrate their value and significance and underscore the importance of publishing additional volumes of Native students' writings."—Samantha M. Williams, Transmotion

"This invaluable collection of Native American writings from the turn of the 20th century amplifies Indian voices and experiences during one of the most transitional periods for Indigenous communities in North America. . . . These writings offer a lens to the humanity, creativity, and intellectualism of boarding school students who navigated many issues, cultures, and settings, while representing their peoples and futures."—Farina King, Tribal College Journal of American Indian Higher Education

"Emery's most valuable addition to boarding school literature is her use of lesser-known writers. While most boarding school presses were run by boys, Emery also has included unique sources like the all-female editorial group—Ida Johnson, Arizona Jackson, and Lula Walker—who launched the Hallaquah newspaper at Seneca Indian School in 1879. Instead of using the newspaper as a promotion of assimilation, these young women showed agency and used their newspaper as a way to preserve their cultures and serve their neighboring communities."—Amanda Johnson, Chronicles of Oklahoma

"The editor's exemplary work, meticulous research, and orchestration of a multi-vocal dialogue between boarding school students and activists across decades paves the way for similar, much-needed work of recovery in the field, both in the boarding school press and beyond. We know that Native students were also skilled poets and performers; this is a study worth undertaking by scholars in the future."—Cristina Stanciu, University of Wisconsin-Madison

"Jacqueline Emery offers an important addition to the field of Native American studies and, in particular, boarding school literature. . . . [This study] is a significant contribution to making available early voices of American Indian students."—Cari M. Carpenter, associate professor of English at West Virginia University and coeditor of The Newspaper Warrior: Sarah Winnemucca Hopkins's Campaign for American Indian Rights, 1864–1891
 

"This collection offers something not only to specialists but also to general readers, and especially to classes devoted to Native American studies, Native literature, literacy history, and mass communication. This is an important work."—Hilary E. Wyss, Hargis Professor of American Literature at Auburn University and author of English Letters and Indian Literacies: Reading, Writing, and New England Missionary Schools, 1750–1830 ?