American Dialogue: The Founders and Us (Paperback)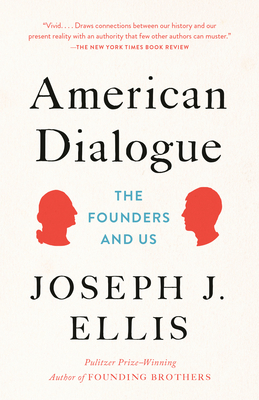 $17.00
Special Order - may be out of print
Staff Reviews
---
American Dialogue: the Founders and Us by Joseph Ellis is a very current, important, and easy to read and digest history.  The book is constructed as a series of paired essays or dialogues on 4 of the most important issues of today:  race, equality, law, and foreign entanglements. The first essay in each pair focuses on one of the founders, and on what he said, wrote and did:  Jefferson on race, John Adams on equality (think income inequality), Madison on the law (the Constitution) and Washington on foreign policy, especially foreign entanglements. The second essay of each chapter looks at how the theme has developed since the founders' day. For example, the second essay in the third section, on the Law, focuses on the emergence of the doctrine of so-called "originalism" in interpreting the Constitution. 
Using extremely interesting examples, we find that the founders were brilliant but fallible human beings, and the Constitution a series of compromises, often driven by the political pressures of the day. Ellis skillfully illuminates the past, but more importantly shines a bright light on where we are now. 
— Matt
Description
---
The award-winning author of Founding Brothers and The Quartet now gives us a deeply insightful examination of the relevance of the views of George Washington, Thomas Jefferson, James Madison, and John Adams to some of the most divisive issues in America today.

The story of history is a ceaseless conversation between past and present, and in American Dialogue Joseph J. Ellis focuses the conversation on the often-asked question "What would the Founding Fathers think?" He examines four of our most seminal historical figures through the prism of particular topics, using the perspective of the present to shed light on their views and, in turn, to make clear how their now centuries-old ideas illuminate the disturbing impasse of today's political conflicts. He discusses Jefferson and the issue of racism, Adams and the specter of economic inequality, Washington and American imperialism, Madison and the doctrine of original intent. Through these juxtapositions—and in his hallmark dramatic and compelling narrative voice—Ellis illuminates the obstacles and pitfalls paralyzing contemporary discussions of these fundamentally important issues.
About the Author
---
JOSEPH J. ELLIS is the author of many works of American history including Founding Brothers: The Revolutionary Generation, which was awarded the Pulitzer Prize, and American Sphinx: The Character of Thomas Jefferson, which won the National Book Award. He lives in Amherst, Massachusetts with his wife and is the father of three sons.
Praise For…
---
"Vivid. . . . Ellis writes with insight and acuity in the present tense, just as he always has in the past tense, and in American Dialogue he draws connections between our history and our present reality with an authority that few other authors can muster." —Jeff Shesol, The New York Times Book Review

"Joe Ellis knows that history is not simply about the past, it's about the present having a conversation with the past. In this elegant and fascinating book, he conducts a discourse between our current troubled times and the period when our founders crafted our national creed. The result is an exploration of our values that is both timely and timeless." —Walter Isaacson, author of Leonardo Da Vinci

"Ellis has taken those recurring questions and those astonishing founders and held them up against our current agonies, seeking to make sense of the present through the prism of the past. . . . Thoughtful and thought-provoking . . . this book may prompt readers to consider that there may be no certainties in a world where philosophy, practicality, and personal interest collide." —The Boston Globe

"Ellis is not concerned with quiet insights or reassurance. He means to mark out where we have strayed from, and how we have betrayed, America's founding ideals." —The Washington Post

"American Dialogue tries to break the conversational deadlock by going back to the beginning and exploring the controversial choices made by the Founders themselves, asking hard questions about who they were, what they did, and what legacies they left behind." —San Francisco Book Review

"A lucid and authoritative examination of America's tumultuous beginnings, when the Founding Fathers grappled with issues of race, income inequality, law, and foreign policy—all issues that still vex the nation. . .  .These and other salient questions inform Ellis' vivid depiction of the controversies swirling as the Constitution was drafted and ratified. . . . A discerning, richly detailed inquiry into America's complex political and philosophical legacy." —Kirkus Reviews (starred)