Japanese Style Watercolor Portraits: Learn to Paint Lifelike Portraits in 48 Easy Lessons (with Over 400 Illustrations) (Hardcover)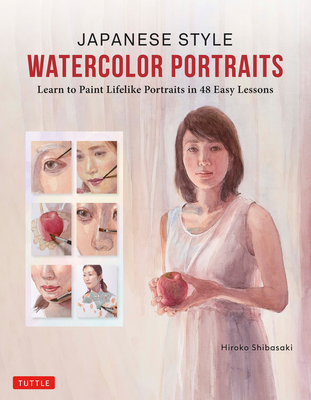 $18.99

usually available in 3-5 business days
Description
---
The ability to capture a realistic likeness requires expert guidance
Japanese Style Watercolor Portraits
provides the professional guidance and all of the expert tips and techniques you need to succeed at creating beautiful, realistic watercolor portraits. With 48 step-by-step lessons covering tools, techniques, sketching, painting and finishing, this book makes learning fun and effective. It will take you through each step of the watercolor portrait process, from choosing a paper size and sketching your subject to layering in the colors and rendering the fine details. Author Hiroko Shibasaki provides expert guidance on the best materials to use along with many insightful tips that every artist should know. The portraits presented in the 12 comprehensive painting tutorials express a distinctively Japanese aesthetic. The subjects in the foreground are rendered in exquisite detail, while the backgrounds are only subtly suggested. This technique places the emphasis on the masterful portraits, leaving it to the viewer's imagination to fill in the peripheral details.
The lessons in this book cover all the key topics, including:
Working with a model
Completing the sketch
Preparing and mixing paints
Blocking in skin tones
Rendering details such as facial features, hairstyles and clothing
Blending and shading the colors
And much more
About the Author
---
Hiroko Shibasaki is a Japanese artist who has worked primarily with watercolors since 2006. Her accolades include the 2011 Japan Watercolor Exhibition Incentive Award, the 2012 Japan Watercolor Exhibition Maruyama Banka Award, the 2017 Japan Watercolor Exhibition Alumni Incentive Award, and the 2019 Japan Watercolor Exhibition Prime Minister's Award. She is a member of the Japan Watercolor Painting Association and is a watercolor painting instructor at the college level. Shibasaki lives in Japan.