If You Spent a Day with Thoreau at Walden Pond (Hardcover)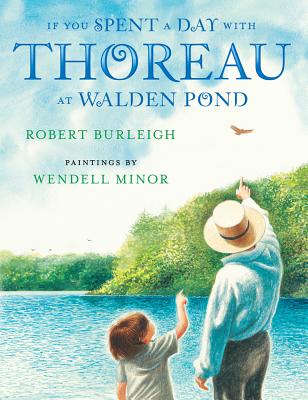 $17.99
Special Order - may be out of print
Description
---
In 1845 in Concord, Massachusetts, Henry David Thoreau began a radical experiment: he built a cabin in the woods and lived there, alone, examining the world around him. He spent his days walking the shores of Walden Pond, growing beans, observing plants and animals, and recording his reflections in his notebook. These reflections eventually became his seminal work Walden.

In this lovely picture book, Robert Burleigh and Wendell Minor imagine a special day spent with the celebrated writer and naturalist through the eyes of a child. Together Thoreau and the young boy watch small but significant wonders such as swimming fish, fighting ants, and clouds in the sky. It is a day full of splendor and appreciation of the outdoor world.
About the Author
---
ROBERT BURLEIGH has written children's books about many well-known Americans, including Flight: The Journey of Charles Lindbergh and Who Said That? Famous Americans Speak. He lives with his wife in Chicago, Illinois.
Wendell Minor
is the award-winning and bestselling illustrator of numerous books, including Ghost Ship, by Mary Higgins Clark. He lives in Washington, Connecticut.
Praise For…
---
"Minor's sweet, verdant watercolors shine in this tale of a straw-hatted old-fashioned Thoreau spending a day with a contemporary boy (complete with running sneakers) by the shores of his beloved Walden Pond. Burleigh interprets Thoreau's own words to create the imaginary day. Henry "wakes with the sun," Burleigh tells us. His tiny house contains "nothing but three chairs, a table, a desk, and an old bed. Yet Henry has just what he needs." Together the two friends row, walk, and weed. They recognize the calls of various birds, wade in Sandy Pond, study ants at war. Now and then, Thoreau's own voice sings out: "I like to make the earth say 'beans' instead of 'grass.' " Admittedly, the book takes a soft view of this flinty figure. ("If you spent a day with Henry David Thoreau, you would hike past Fair Haven Hill, where the huckleberries grow . . . Yum!" But as a young child's introduction to the thoughts and work of Thoreau, this captures many essentials. "Simplicity, simplicity, simplicity," Henry wrote 150 years ago. It's still good advice for makers of picture books." —The Boston Globe

"Burleigh and Minor (the team behind Night Flight and other historical profiles) focus on the unconventional way Thoreau uses language ('From here the pond is like a wide-open eye staring up at the sky'), the magic of everyday observation, and the implicit anticonsumerist message of his pared-down life." —Publishers Weekly

"…a glimpse of Thoreau's philosophy that young children can understand." —School Library Journal

"Evocative prose replete with memorable images gives readers a child's-eye view of Thoreau's days..." —Kirkus

"A solid introduction to someone kids should know." —Booklist

"Lincoln's funeral train took 13 days between Washington, D.C., and Springfield, Ill., and drew 30 million mourners along the way. Abraham Lincoln Comes Home by Robert Burleigh, illustrated by Wendell Minor, poignantly imagines a father and son paying their respects on the prairie." —USA Today on Abraham Lincoln Comes Home

"Moving prose and dramatic night scenes show them as part of a grieving yet grateful nation, paying homage to a fallen hero." —San Francisco Chronicle on Abraham Lincoln Comes Home

"This quiet, lovely book sensitively communicates a sense of the magnitude of loss felt by so many." —Kirkus Reviews on Abraham Lincoln Comes Home

"A moving portrait of a cultural moment, before the age of 24/7 electronic media, when tribute was paid to the slain president by those who turned out to see the train pass. Text and pictures convey the watchers' sense of solemnity." —Chicago Tribune on Abraham Lincoln Comes Home

"Minor's luminous, occasionally almost photographic, paintings portray the adult narrator as a boy, surrounded by a ghostly haze as he walks along the tracks. . . . There's little doubt that railroad aficionados will pore over the crisply rendered railroad memorabilia." —Publishers Weekly, starred review on The Last Train