Baby Bird Portraits by George Miksch Sutton: Watercolors in the Field Museum (Hardcover)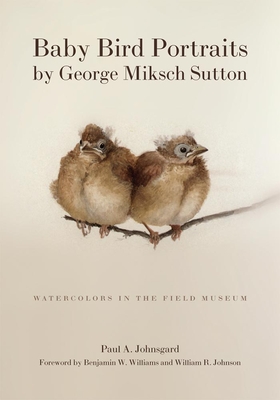 Description
---
George Miksch Sutton is one of the best known and most beloved bird artists of the twentieth century. This marvelous book presents thirty-five paintigs of downy chicks, nestlings, and fledglings painted from life by Sutton. The exquisite watercolrs, housed in the Field Museum of Natural History, span three decades and depict nineteen species of North American birds. Many of the paintings are reproduced here for the first time.
Sutton was fond of painting young birds from life and of recording their developmental changes. Marked by delicate brushwork and subtle color variations, his paintings document characteristic features of the birds' species as well as capturing the poses and attributes that make each bird seem so unique. Some paintings show not only juvenal plumage but also head portraits of adult plumage. The nineteen species include familiar garden birds such as cardinals, Great Plains inhabitants such as the grassland sparrows, and upland and wetland birds, including bobwhites, moorhens, and sandpipers.
In his introduction to the collection, ornithologist Paul Johnsgard discusses Sutton's contributions to bird art and to ornithology. And is essays accompanying the paintings, Johnsgard describes his and Sutton's personal encounters with the birds.
A tribute to Sutton's genius as both an artist and an ornithologist, Baby Bird Portraits will be welcomed by ornithologists, bird enthusiasts, and Sutton's legion of admirers.