Wizard: The Life and Times of Nikola Tesla: Biography of a Genius (Paperback)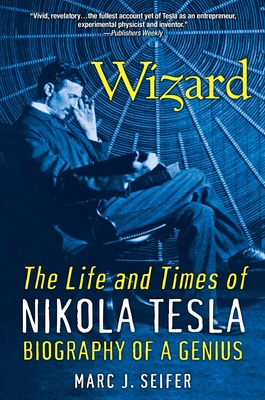 $21.95

usually available in 3-5 business days
Description
---
"The story of one of the most prolific, independent, and iconoclastic inventors of this century . . . fascinating."—Scientific American

Nikola Tesla (1856-1943), credited as the inspiration for radio, robots, and even radar, has been called the patron saint of modern electricity. Based on original material and previously unavailable documents, this acclaimed book is the definitive biography of the man considered by many to be the founding father of modern electrical technology. Among Tesla's creations were the channeling of alternating current, fluorescent and neon lighting, wireless telegraphy, and the giant turbines that harnessed the power of Niagara Falls.

This essential biography is illustrated with sixteen pages of photographs, including the July 20, 1931, Time magazine cover for an issue celebrating the inventor's career.

"Wizard is a truly remarkable biography of a remarkable man. The expression 'ahead of his time' is used too loosely and too often today but in the case of Nikola Tesla 'ahead of his time' barely describes the genius of this man. Marc Seifer makes us understand not only the man but the times in which he lived."—Nelson DeMille

"A deep and comprehensive biography of a great engineer of early electrical science—likely to become the definitive biography. Highly recommended."—American Association for the Advancement of Science

"Vivid, revelatory . . . the fullest account yet of Tesla as an entrepreneur, experimental physicist and inventor."—Publishers Weekly
About the Author
---
A graduate of the University of Chicago and Saybrook University, Marc J. Seifer, Ph.D., is a retired psychology teacher from Roger Williams University. A handwriting expert who has testified in state and federal court, Dr. Seifer has lectured at West Point Military Academy, Brandeis University, the United Nations, the Open Center in New York, LucasFilms Industrial Light & Magic, at Oxford University and Cambridge University in England, and at conferences in Canada, Israel and Croatia and for the Serbian Academy of Sciences.
 
His articles have appeared in Wired, Civilization, The Historian, Psychiatric Clinics of North America and Cerebrum. Featured in The New York Times, The Washington Post, The Wall Street Journal, The Economist and Scientific American, Dr. Seifer has also appeared on Coast to Coast Radio, NPR's "All Things Considered," "The Morning Show" in Canberra Australia, on the BBC, and on TV on American Experience, The History Channel, and Associated Press International.
 
Listed in Marquis' Who's Who in the World, he is also the author of the novels Rasputin's Nephew, Doppelgänger, Crystal Night, and Fate Line, and the non-fiction works Transcending the Speed of Light, The Definitive Book of Handwriting Analysis, and Framed! Murder, Corruption & a Death Sentence in Florida. His book Wizard: The Life & Times of Nikola Tesla has been translated into nine languages including Serbian, Russian and Chinese.
Praise For…
---
"Seifer's vivid, revelatory, exhaustively researched biography rescues pioneer inventor Nikola Tesla from cult status and restores him to his rightful place as a principal architect of the modern age." ---Publishers Weekly Starred Review

"[Wizard] brings the many complex facets of [Tesla's] personal and technical life together in to a cohesive whole.... I highly recommend this biography of a great technologist." --A.A. Mullin, U.S. Army Space and Strategic Defense Command, COMPUTING REVIEWS

"[Along with A Beautiful Mind] one of the five best biographies written on the brilliantly disturbed." --WALL STREET JOURNAL

"Wizard is a compelling tale presenting a teeming, vivid world of science, technology, culture and human lives." --NEW SCIENTIST

"Marc Seifer is an excellent writer and scholar, who has produced a wonderfully readable and illuminating biography of one of the most intriguing men of this century... mak[ing] us understand not only the man, but also the times in which he lived. . . . [A] masterpiece." --NELSON DEMILLE

"The author presents much new material... [and] bases his book on a large number of archival and primary sources.... Underneath the layers of hero worship, the core of Seifer's book is a serious piece of scholarship." --Ronald Kline, SCIENTIFIC AMERICAN 

"Seifer has done a remarkable job going through all the Tesla manuscripts… ferret[ing] out hundreds of newspaper and magazine articles in which he traces out Tesla's public image [and] offers a reasonable reconstruction of Tesla's emotional world. . . . Seifer has significantly advanced our understanding of Tesla." --Bernard Carlson, author of Tesla: Inventor of the Electrical Age, for ISIS

"It is my opinion that Dr. Seifer leads the world as the most authoritative of all the Tesla researchers." --J.W. McGINNIS,President, International Tesla Society

"Far and away the best job among Tesla biographies." --Jeffrey D. Kooistra, INFINITE ENERGY

"Wizard is … utterly absorbing with chapters charting all stages of Tesla's life.... Seifer treats his prodigious subject with sympathy and realism." --NEXUS

"Wizard... presents a much more accurate... picture of Tesla.... [It] is thorough, informative, entertaining and a valuable addition to electrotechnological history, past and future." --ELECTRONIC ENGINEERING TIMES

"In modern times, Tesla may be enjoying a comeback thanks to books like Wizard." --THE NEW YORK TIMES

"Here is a deep and comprehensive biography of a great engineer of early electrical science. Indeed, it is likely to become the definitive biography of the Serbian-American inventor Nikola Tesla. .... Highly recommended." --AMERICAN ASSOCIATION FOR THE ADVANCEMENT OF SCIENCE

From Publishers Weekly:

Seifer's vivid, revelatory, exhaustively researched biography rescues pioneer inventor Nikola Tesla from cult status and restores him to his rightful place as a principal architect of the modern age. Based largely on firsthand documents including Tesla's writings, his patents and those of competitors, it credits the Croatian-born Serb, who moved to New York in 1884, with the invention of the induction motor, long-distance electrical power distribution, fluorescent and neon lights, the first true radio tube and remote control, besides making vital contributions to the technology underlying television, wireless communication, robotics, lasers, the facsimile machine and particle-beam weaponry anticipating the space-based "Star Wars" defensive shield. Though often depicted as a recluse, flamboyant nouveau-riche Tesla (1856-1943) lived in Manhattan's Waldorf-Astoria Hotel for two decades, and hobnobbed with architect Sanford White, Mark Twain, Rudyard Kipling, conservationist John Muir, mogul John Jacob Astor III, Swami Vivekananda. Yet the electronic wizard, who competed fiercely with Marconi and with his one-time employer Edison, became swamped in debt, abandoned by a world he helped create, ending his days in seedy poverty, a bitter, anorexic eccentric obsessed with feeding pigeons and avoiding germs. Seifer, who teaches psychology at Community College of Rhode Island, attributes Tesla's downfall partly to his megalomaniacal, neurotic, self-destructive tendencies, partly to a quagmire of litigation and also to his Faustian pact with his ambivalent benefactor, Wall Street financier J. Pierpont Morgan, to whom he relinquished control of several patents. Morgan, suggests Seifer, stymied Tesla's visionary scheme for a global, wireless power-distribution system because, if realized, it would jeopardize electrical, lighting and telephone monopolies. Seifer provides the fullest account yet of Tesla as an entrepreneur, experimental physicist and inventor.
Copyright 1996 Reed Business Information, Inc. Boxed & Starred Review

From Library Journal:

Nikola Tesla is credited by many as the inventor of radio and should have received most of the credit for the development of modern electricity. Yet there is considerable confusion about his technical contributions and even more about his personal life. This book, by a professor of psychology at Bristol Community College and a member of the International Tesla Society, painstakingly documents Tesla's wide-ranging contributions. Born in Croatia, Tesla emigrated to the United States in 1884 and almost immediately began work on alternatives to what was then accepted as standard electrical technology. This brought him into conflict with Edison and later Westinghouse. The pattern of conflict continued for nearly 60 years, partially because Tesla was far ahead of his time, partially because he was erratic and off-beat, and partially because he was not an astute business partner. Seifer has analyzed extensive sources, many not previously used by other Tesla biographers, to provide a detailed interpretation of his life, but the fact that he also incorporates extensive handwriting analysis to arrive at several of his conclusions will certainly cause some reader concern. For larger science and biography collections.?Hilary Burton, Lawrence Livermore National Lab., Livermore, Cal.
Copyright 1996 Reed Business Information, Inc. --

From Booklist:

What kind of genius can fathom the mysteries of electromagnetism but cannot keep corporate lawyers from taking him to the cleaners? Perhaps because his life did not culminate in wealth and acclaim, Nikola Tesla has largely slipped from the national memory. Seifer's biography rescues him from oblivion, bringing back to life the amazingly creative intellect that gave us fluorescent lighting, wireless communication, cheap electrical power, and the remote control. But Seifer also resurrects the wounded, self-destructive personality who never recovered from the loss of a favored older brother and who spiraled into weird obsessions, mental collapse, and poverty as he watched other men use his inventions to win fame and riches. Seifer does an admirable job of explaining his subject's technical feats and analyzing his psychological idiosyncrasies. Tinged with pathos, this meticulously researched biography deserves attention from all who would understand the human tragedies played out in the shadows of our neon culture.
Bryce Christensen --