A City So Grand: The Rise of an American Metropolis, Boston 1850-1900 (Paperback)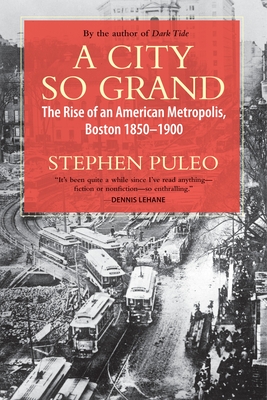 $20.00
usually available in 5-10 days
Description
---
Between 1850 and 1900, Boston underwent a stunning metamorphosis from an insulated New England town into one of the world's great metropolises—one that achieved worldwide prominence in politics, medicine, education, science, social activism, literature, commerce, and transportation.
 
In A City So Grand, Stephen Puleo chronicles this remarkable period in Boston's history. He takes readers through the ferocity of the abolitionist movement of the 1850s, the thirty-five-year engineering and city-planning feat of the Back Bay project, Boston's explosion in size through immigration and annexation, the devastating Great Fire of 1872, and the glorious opening of America's first subway station in 1897. This lively journey paints a portrait of a half century of progress, leadership, and influence.

About the Author
---
Stephen Puleo is the author of the Boston Globe best seller The Boston Italians and of the critically acclaimed Boston-area best seller Dark Tide: The Great Boston Molasses Flood of 1919. A former award-winning newspaper reporter and contributor to American History magazine, he holds a master's degree in history and teaches at Suffolk University. He and his wife, Kate, live in the Boston area.
Praise For…
---
 "It's been quite a while since I've read anything—fiction or nonfiction—so enthralling."—Dennis Lehane

"Stephen Puleo's new book is more evidence of the urban role in civilization, as it reminds us of the remarkable accomplishments of late nineteenth-century Boston."—Edward Glaeser, The New Republic book blog
 
"Stephen Puleo, a historian of Boston who has written about the Great Molasses Flood of 1919 and the Italian community in the North End, takes a wider view in his new book, A City So Grand. The cast of characters includes Frederick Douglass and Alexander Graham Bell. The Big Dig equivalents are the opening of the city's underground subway system and the Great Boston Railroad Jubilee marking the beginning of train service to Montreal and Chicago."—Jan Gardner, The Boston Globe
 
"'No period in Boston's history was more dynamic' than the second half of the 19th century, writes Puleo in this smoothly narrated account of that time and place. . . . Despite tensions and disasters, Boston emerged as one of the world's leading cities. . . . A thorough history."—Publishers Weekly