The Racial Middle: Latinos and Asian Americans Living Beyond the Racial Divide (Paperback)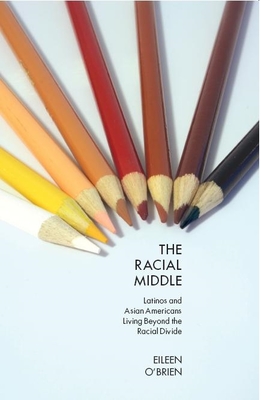 $27.00
usually available in 3-7 days
Description
---
The divide over race is usually framed as one over Black and White. Sociologist Eileen O'Brien is interested in that middle terrain, what sits in the ever-increasing gray area she dubbed the racial middle.
The Racial Middle, tells the story of the other racial and ethnic groups in America, mainly Latinos and Asian Americans, two of the largest and fastest-growing minorities in the United States. Using dozens of in-depth interviews with people of various ethnic and generational backgrounds, Eileen O'Brien challenges the notion that, to fit into American culture, the only options available to Latinos and Asian Americans are either to become white or to become brown.
Instead, she offers a wholly unique analysis of Latinos and Asian Americans own distinctive experiences--those that aren't typically White nor Black. Though living alongside Whites and Blacks certainly frames some of their own identities and interpretations of race, O'Brien keenly observes that these groups struggles with discrimination, their perceived isolation from members of other races, and even how they define racial justice, are all significant realities that inform their daily lives and, importantly, influence their opportunities for advancement in society.
A refreshing and lively approach to understanding race and ethnicity in the twenty-first century, The Racial Middle gives voice to Latinos and Asian-Americans place in this country's increasingly complex racial mosaic.
About the Author
---
Eileen O'Brien is Assistant Professor of Sociology at Christopher Newport University, Virginia. She is the author of Whites Confront Racism: Antiracists and Their Paths to Action and, with Joe Feagin, White Men on Race. She is the co-editor, with Joseph Healey, of Race, Ethnicity, and Gender: Selected Readings.