Breaks in the Chain: What Immigrant Workers Can Teach America about Democracy (Paperback)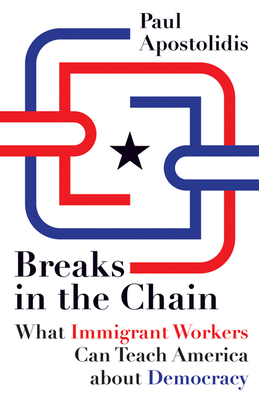 Email or call for price.
usually available in 3-7 days
Description
---
In Breaks in the Chain, Paul Apostolidis investigates the personal life stories of a group of Mexican immigrant meatpackers who are at once typical and extraordinary. After crossing the border clandestinely and navigating the treacherous world of the undocumented, they waged a campaign to democratize their union and their workplace in the most hazardous industry in the United States.
Breaks in the Chain shows how immigrant workers-individually and sometimes collectively-both reinforce and contest a tacit but lethal form of biopolitics that differentiates the life chances of racial groups. Examining their personal narratives, Apostolidis recasts our understanding of the ways immigrants construct and transform social power.
Apostolidis uses empirical inquiry to spark new reflections in critical theory as he analyzes how immigrant workers' local practices confront structural power within and beyond America's borders. Linking stories of immigration to stories about working on the meat production line-the chain-he reveals the surprising power of activism by immigrant workers and their allies and demonstrates how it can-and should-promote social and political democracy in America.
About the Author
---
Paul Apostolidis holds the Judge and Mrs. Timothy A. Paul Chair of Political Science at Whitman College. He is the author of Stations of the Cross: Adorno and Christian Right Radio and coeditor of Public Affairs: Politics in the Age of Sex Scandals.
Praise For…
---
"Theoretically illuminating, politically engaged, and of vital importance, Breaks in the Chain lucidly intertwines subtle reflections about the ways immigrants negotiate and contest power with the interview narratives in a riveting manner. It exemplifies the very best of contemporary political theory."—Romand Coles, Northern Arizona University
"Breaks in the Chain is tremendously important and timely, treating as it does the intersection between immigration and unionization that is currently a critical edge of left politics and a new frontier of biopolitical power."—Lisa Disch, University of Michigan
"Breaks in the Chain retains its currency and powerful political message without ever denying its immigrant protagonists humanity, dignity and agency."—Journal of American Studies
"Apostolidis is not content to let the workers just "tell their story."...Breaks in the Chain seeks to interpret the workers' narratives in the language of critical theory."—Labor Studies Journal
"Apostolidis has certainly offered a thoughtful, innovative and worthwhile account of agency, inviting readers to work with him as he pursues these different narrative (and analytical) threads as a dynamic grounding for political democratic theorizing."—Theory & Event
"Breaks in the Chain will be of interest to a wide range of scholars, students as well as a wider public interested in fields covering political theory, social movements, transnational migration, amongst others, and related methodologies."—Breaks in the Chain
"Breaks in the Chain is a brilliant work of engaged political theory. This book is theoretically innovative and empirically rich. Without a doubt, this is a book that stands ready to push current debates and guide research in important new directions."—Perspectives on Politics