Trembling Earth: A Cultural History of the Okefenokee Swamp (Paperback)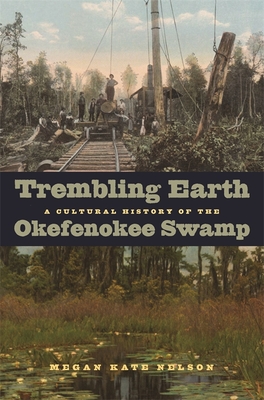 $25.95
usually available in 1-5 days
Description
---
This innovative history of the Okefenokee Swamp reveals it as a place where harsh realities clashed with optimism, shaping the borderland culture of southern Georgia and northern Florida for over two hundred years.
From the formation of the Georgia colony in 1732 to the end of the Great Depression, the Okefenokee Swamp was a site of conflict between divergent local communities. Coining the term "ecolocalism" to describe how local cultures form out of ecosystems and in relation to other communities, Megan Kate Nelson offers a new view of the Okefenokee, its inhabitants, and its rich and telling record of thwarted ambitions, unintended consequences, and unresolved questions.
The Okefenokee is simultaneously terrestrial and aquatic, beautiful and terrifying, fertile and barren. This peculiar ecology created discord as human groups attempted to overlay firm lines of race, gender, and class on an area of inherent ambiguity and blurred margins. Rice planters, slaves, fugitive slaves, Seminoles, surveyors, timber barons, Swampers, and scientists came to the swamp with dreams of wealth, freedom, and status that conflicted in varied and complex ways. Ecolocalism emerged out of these conflicts between communities within the Okefenokee and other borderland swamps.
Nelson narrates the fluctuations, disconnections, and confrontations embedded in the muck of the swamp and the mire of its disorderly history, and she reminds us that it is out of such places of intermingling and uncertainty that cultures are forged.
About the Author
---
Megan Kate Nelson is a writer, historian, and cultural critic. Based in Lincoln, Massachusetts, she has written about Civil War and western history for a number of national publications. Nelson also writes a regular column on Civil War popular culture, "Stereoscope," for Civil War Monitor, and her blog, Historista examines the "surprising and weird ways that people engage with history in everyday life." Nelson is also the author of Ruin Nation: Destruction and the American Civil War (Georgia). She has taught at Texas Tech University; California State University, Fullerton; Harvard University; and Brown University.
Praise For…
---
"Trembling Earth is a fascinating, valuable addition to the (suddenly) burgeoning literature encompassing the American Southeast's environment. Nelson's work, excellent in itself, represents a flowering in the regional field, I think, that will soon rival the larger and older tradition of western environmental history."--Jack Temple Kirby, author of Poquosin: A Study of Rural Landscape and Society

"Trembling Earth assembles a wealth of fascinating, valuable, and previously uncollected (for the most part) information about a key locale in American social and cultural history. Not since Elizabeth McKinsey's Niagara Falls has there been so effective an analysis of a particular American landscape as this one."--David C. Miller, author of Dark Eden: The Swamp in Nineteenth-Century American Culture

"Megan Kate Nelson has tapped a voluminous wealth of source materials to produce a cultural study of Georgia's great Okefenokee Swamp. . . . Overall, this book is an intriguing read. Nelson's descriptions of the cypress milling operations are, in fact, are some of the best this reviewer has encountered."--Journal of Southern History

"In Megan Nelson's approach, we become more familiar with the swamp as we learn about the human history relative to it, from Native Americans to European settlers to escaped slaves."--Bloomsbury Review

"The Okefenokee has been well documented through history, and Nelson does a fine job of pulling the research together to underscore her theory. She presents an excellent, detailed review of human influence in the Swamp from the Creeks and Seminoles to present-day federal government ownership. Nelson has done a wonderful, long-awaited service in telling a complete cultural history of the Okefenokee. It will be the leading reference for many years and is suitable for the lay audience, historians, and scientists."--Environmental History

"Nelson makes a valuable contribution to the growing volume of work that considers other important but previously neglected areas . . . Her eco-cultural history of the Okefenokee Swamp is a lucidly written, solidly researched study that contributes to many areas of scholarship . . . Nelson's is an innovative work on many levels and deserves the attention of scholars interested in the South, the environment, and cultural studies."--Georgia Historical Quarterly

"Of particular interest is Nelson's wonderful account of the swamp as a place people moved through: in warfare (ambushing and fleeing enemies, especially effectively on the part of Seminoles in conflict with American troops), but also in flight from slavery and colonial occupation. The history of a place whose longstanding use was for transit and refuge shifts the lens a little on what or where any 'place' is, and what is important to know about it, environmentally and culturally."--American Studies

"An insightful and lively history of the Okefenokee."--Tampa Tribune