Ruin Nation: Destruction and the American Civil War (Uncivil Wars) (Paperback)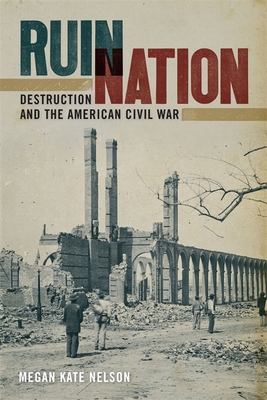 $26.95
Usually Ships in 1-5 Days
Description
---
During the Civil War, cities, houses, forests, and soldiers' bodies were transformed into "dead heaps of ruins," novel sights in the southern landscape. How did this happen, and why? And what did Americans--northern and southern, black and white, male and female--make of this proliferation of ruins? Ruin Nation is the first book to bring together environmental and cultural histories to consider the evocative power of ruination as an imagined state, an act of destruction, and a process of change.
Megan Kate Nelson examines the narratives and images that Americans produced as they confronted the war's destructiveness. Architectural ruins--cities and houses--dominated the stories that soldiers and civilians told about the "savage" behavior of men and the invasions of domestic privacy. The ruins of living things--trees and bodies--also provoked discussion and debate. People who witnessed forests and men being blown apart were plagued by anxieties about the impact of wartime technologies on nature and on individual identities. The obliteration of cities, houses, trees, and men was a shared experience. Nelson shows that this is one of the ironies of the war's ruination--in a time of the most extreme national divisiveness people found common ground as they considered the war's costs. And yet, very few of these ruins still exist, suggesting that the destructive practices that dominated the experiences of Americans during the Civil War have been erased from our national consciousness.
About the Author
---
MEGAN KATE NELSON is a writer, historian, and cultural critic. Based in Lincoln, Massachusetts, she has written about Civil War and western history for a number of national publications. Nelson also writes a regular column on Civil War popular culture, "Stereoscope," for Civil War Monitor, and her blog, Historista examines the "surprising and weird ways that people engage with history in everyday life." Nelson is also the author of Ruin Nation: Destruction and the American Civil War (Georgia). She has taught at Texas Tech University; California State University, Fullerton; Harvard University; and Brown University.
Praise For…
---
"An important new contribution to nineteenth-century cultural history, environmental history, Civil War history, and American studies scholarship. Among the book's many strengths are its interdisciplinary approach, showing a sophisticated understanding of fields ranging from visual culture to gender studies to the history of science; a truly impressive base of archival research; a very clear writing style; and a subtle suggestion of the topic's present-day resonance and relevance."—Aaron Sachs, author of The Humboldt Current: Nineteenth-Century Exploration and the Roots of American Environmentalism

"Nelson brings a truly original set of problems and questions to a thoroughly canvassed period of U.S. history. Engaging, deeply researched, and lucidly and fluently written, her book is bound to interest scholars and a broader readership alike."—Karen Halttunen, author of Murder Most Foul: The Killer and the American Gothic Imagination

"Megan Kate Nelson has found a fresh way to consider the destruction caused by the Civil War. In often compelling prose, she uses the idea of ruins to consider how we construct meaning from chaos and loss. Through this concept she explores the scars left by combat on not only objects like homes but also on people, such as amputees. In the symbolism of ruins, she finds the intersection of how we cope with what war destroys and what it creates. The book is an intriguing application of cultural analysis to one of the centerpieces of our national narrative."—William Blair, Director of the George and Ann Richards Civil War Era Center, Pennsylvania State University



"An interesting read for those interested in the effects of the war on civilians [as] well as soldiers, and its longer term influence on society."—NYMAS Reviews


"In her masterfully written and well-documented study of Civil War ruins, Megan Kate Nelson brings into high relief the tension between what the war destroyed and what it created. . . . Ruin Nation is an illuminating and engaging study of how Americans processed the devastation wrought by a bloody and destructive war."—Victoria E. Ott, Register of the Kentucky Historical Society