From Dickinson to Dylan: Visions of Transcendence in Modernist Literature (Hardcover)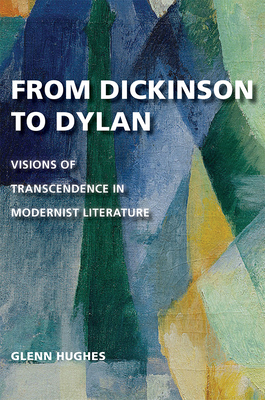 Email or call for price.
usually available in 3-7 days
Description
---
Glenn Hughes examines the ways in which six literary modernists—Emily Dickinson, Marcel Proust, T. S. Eliot, Ezra Pound, Samuel Beckett, and Bob Dylan—have explored the human relationship to a transcendent mystery of meaning. Hughes argues that visions of transcendence are, perhaps surprisingly, a significant feature in modernist literature, and that these authors' works account for many of the options for interpreting what transcendent reality might be.

This work is unique in its extended focus, in a comparative study spanning a century, on the persistence and centrality in modernist literature of the struggle to understand and articulate the dependence of human meaning on the mystery of transcendent meaning. Hughes shows us that each of these authors is a mystic in his or her way, and that none are tempted by the modern inclination to suppose that meaning originates with human beings. Together, they address one of the most difficult and important challenges of modern literature: how to be a mystic in modernity.
About the Author
---
Glenn Hughes is  Professor Emeritus of Philosophy at St. Mary's University in San Antonio. He is the author of several books, including A  More Beautiful Question: The Spiritual in Poetry and Art, and Transcendence and History: The Search for Ultimacy from Ancient Societies to Postmodernity (both University of Missouri Press).
Praise For…
---
"I consider this book to be absolutely brilliant. The authors it discusses are central to the modernist movement in literature, and Hughes offers a new perspective regarding what makes them important. His use of philosophy to deepen his literary analysis is especially valuable, and he uses it to make a compelling case for the centrality of the theme of transcendence to their works. He explains his thesis so clearly and illustrates it so well that I think even a reader averse to that theme would recognize its importance to these authors."—Eugene Webb, University of Washington, author of The Dark Dove: The Sacred and Secular in Modern Literature

"Any reader of this book will be led to admire the exceptional combination of a great philosophical competence and a notable literary sensitivity by which it excels. Glenn Hughes proposes to study six 'visions in modern literature' and the promise implied by this formula is splendidly fulfilled. Through his voice, in the form of an immensely learned book, we hear the most essential messages of meaning from such celebrated writers as Emily Dickinson, Marcel Proust. T.S. Eliot, Ezra Pound, Samuel Beckett, Bob Dylan."—Tilo Schabert, University of Erlangen-Nuremberg, author of The Figure of Modernity: On the Irregularity of an Epoch
 

"Glenn Hughes has performed an inestimable service in demonstrating the extent to which the great works of modernist literature are saturated with an awareness of the transcendent.  The range of authors covered and the compelling character of the analysis makes this a seminal work of literary, philosophical, and spiritual interpretation. From Dickinson to Dylan makes it increasingly difficult to maintain the shibboleth of modernity as largely bereft of the sacred.  In addition, Hughes reveals the authoritative role of art in generating publicly evocative symbolizations of the order of being.  This is a major achievement."—David Walsh, Catholic University of America, author of Politics of the Person as the Politics of Being
 

"An immensely rewarding study of human consciousness which, finding itself at the limits of human understanding, opens itself to the 'beyond' and asks 'further questions.' This process of questioning reality generates a dynamism that proceeds to transcendent dimensions of meaning. Hughes validates his view of transcendence by exploring the writings of six modern masters whose work illuminates the intersection of memory and mysticism – Dickinson, Eliot, and Pound in poetry, Proust in fiction, Beckett in drama, and Bob Dylan in lyric."—Jewel Spears Brooker, Professor Emerita of Literature at Eckerd College in St. Petersburg, Florida, author of T. S. Eliot's Dialectical Imagination and co-editor of The Complete Prose of T. S. Eliot