When America First Met China: An Exotic History of Tea, Drugs, and Money in the Age of Sail (Hardcover)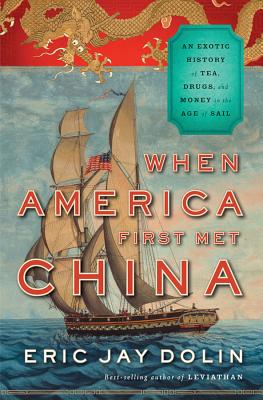 $27.95
Special Order - may be out of print
Description
---
Ancient China collides with newfangled America in this epic tale of opium smugglers, sea pirates, and dueling clipper ships.
Brilliantly illuminating one of the least-understood areas of American history, best-selling author Eric Jay Dolin now traces our fraught relationship with China back to its roots: the unforgiving nineteenth-century seas that separated a brash, rising naval power from a battered ancient empire. It is a prescient fable for our time, one that surprisingly continues to shed light on our modern relationship with China. Indeed, the furious trade in furs, opium, and beche-de-mer—a rare sea cucumber delicacy—might have catalyzed America's emerging economy, but it also sparked an ecological and human rights catastrophe of such epic proportions that the reverberations can still be felt today. Peopled with fascinating characters—from the "Financier of the Revolution" Robert Morris to the Chinese emperor Qianlong, who considered foreigners inferior beings—this page-turning saga of pirates and politicians, coolies and concubines becomes a must-read for any fan of Nathaniel Philbrick's
Mayflower
or Mark Kurlansky's
Cod
.
About the Author
---
Eric Jay Dolin is the best-selling author of Black Flags, Blue Waters and Leviathan. He and his family live in Marblehead, Massachusetts.

Praise For…
---
Starred review. A rich, highly readable examination of the seeds of poppies, trade, greed, grandeur and an international partnership that remains uneasy and perilous.

A smart, riveting history of what has become the most important bilateral relationship in the world.... An all-around outstanding work of maritime history.
— Douglas Brinkley, author of Cronkite

Master storyteller Eric Jay Dolin brings to life the American genius for commerce and its essential connection to how the nation grew... this is a timely and well-told tale.
— Kenneth C. Davis, author of Don't Know Much About®History

Eric Jay Dolin has a special talent for unearthing the fascinating but forgotten origins of our current cultural obsessions and now hes done it again. This fast-paced and deeply researched book is a must-read for anyone interested in Americas long history of competition and cooperation with China.
— Debby Applegate, author of The Most Famous Man in America

A tantalizing high-sea yarn of fast-running clippers and murderous pirates and a profound meditation on an international relationship that still absorbs our attention today. Fresh, gripping, pelagically capacious.
— Yunte Huang, author of Charlie Chan

Fascinating, compelling, and engrossing.
— Joan Druett, author of Island of the Lost

Fast-moving... focuses on intriguing anecdotes and personal vignettes, featuring colorful subjects such as pirates, drug runners, and slave traders, as well as those engaged in more salubrious pursuits. ...[E]ntertaining.

This sweeping popular history... brews up a rich and satisfying narrative of the exotic intersection of the silk, tea, and opium trade and the missionary zeal that characterized America's engagement with the still mysterious 'Middle Kingdom' in the eighteenth and nineteenth centuries. With a flair for dramatic and fast-paced storytelling, Dolin provides the reader with nuanced insights into everything from pirates, the world-changing impact of the silk trade, the British-Chinese Opium War of the 1840s, and the fearlessness (and naïveté) of the early missionaries to good old-fashioned tales of adventure on the high seas.

A diligent researcher… Dolin has uncovered some fascinating nuggets about the history of US-China trade.
— Matthew Price

Fascinating and entertaining... masterful history... His work is well-researched, rich in illustrations and full of life.
— Tom Zelman

Lively biographical sketches, intriguing anecdotes and accounts of curious incidents… Dolin wrings so much drama, interest and humor out of this early period of U.S.-China relations. And what makes his achievement more notable still is that he makes the period come alive without turning the book into one devoted exclusively to opium, the topic that has the clearest dramatic potential and has gotten the most attention in works on the era.
— Jeffrey Wasserstrom

Eric Jay Dolin... has produced another in a series of accessible, highly readable histories detailing the early adventures and impassioned drive that characterized early enterprise in America and set a path for what was to follow... Interesting, informative and entertaining.
— Rae Padilla Francoeur

Timely…Readers of Dolin's award-winning books—Leviathan: The History of Whaling in America (2007) and Fur, Fortune, and Empire: The Epic History of the Fur Trade in America (2010)—will recognize in this newest work his distinctive style and his eye for iconic figures and vivid anecdotes…. Dolin is fully in his element when taking readers through an expert, richly anecdotal discussion of various intertwined China-related trades—whaling, sea skins, fur, tea, and opium.

— Eileen Scully