Riff, Ram, Bah, Zoo! Football Comes to TCU (Paperback)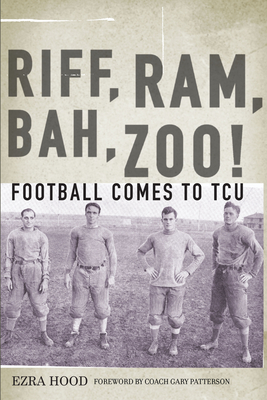 $20.00

usually available in 3-7 days
Description
---
Riff, Ram, Bah, Zoo,
Lickety Lickety, Zoo Zoo,
Who Wah, Wah Who,
Give 'em hell,
TCU!
Ezra Hood's 
Riff, Ram, Bah, Zoo! Football Comes to TCU
(named after TCU's "Riff, Ram" cheer, one of the oldest known cheers in the nation) traces the origins of Texas Christian University, a tiny liberal arts college in Waco, Texas, to its induction into the Southwest Conference in 1922 as an up-and-coming collegiate football power. Drawing from numerous newspaper sources—most notably from the
TCU Daily Skiff
—Hood's book provides an in-depth, game-by-game history of a football program that struggled to find its place amongst established Texas football programs in the early twentieth century.
Hood begins with the university's conception in 1873, when it was known as AddRan Male and Female College, and describes the rise of football's popularity in Texas. From there, the book chronicles each of TCU's football seasons from its first year in 1896 to its final year in TIAA play, before it joined the Southwest Conference and went on to become, in Hood's words, "the prince of the Southwest in the 1930s."
 Hood captures particular details of each season—noting significant coaching changes and highly-touted recruits—all the while providing anecdotes from local newspapers as a way to capture the community response to TCU football in both Waco and Fort Worth. And while the book focuses largely on the ups and downs of the program, Hood also captures the impact of the times on both TCU and the many towns of central and north Texas—the impact of the first World War, for instance, on the state of football nationwide and the loss of notable TCU players to the war effort.
 Thanks to Hood's exhaustive historical account, this book will be a valuable reference for both fans and historians of TCU and the game of football.
About the Author
---
A Fort Worth native, EZRA HOOD graduated from Texas Christian University in 2005 with a degree in music composition. He received his JD from George Mason University School of Law in 2009 and currently works as an attorney adviser in Fort Worth. As a student, he wrote for the TCU Daily Skiff and remains an enthusiastic fan of TCU athletics.
Praise For…
---
"TCU has a proud football tradition, and we're excited that TCU Press is capturing its early years with this very special publication. It's a must-read for any Horned Frog football fan."
–Chris Del Conte, Director of Intercollegiate Athletics at TCU


"Ezra Hood has cast a bright light on the early years of TCU football, when games were played on East Campus. No TV, no bowls, not even Davey O'Brien . . . it's an inside look at the cornerstone days of a program that continues to honor its pigskin pioneers. Riff Ram!"

—John Denton, longtime Color Analyst, TCU Sports Network


"All TCU fans will enjoy this interesting account of our football team's earliest years. Thanks to Ezra Hood and TCU Press, the stories and photos offer fascinating insight into how the game of football came to TCU."
--Victor J. Boschini Jr., Chancellor, Texas Christian University